Attention all design lovers, it's time to start downloading the best free fonts of 2023! As many of you know, having the perfect font can make or break your project.
So, why spend hundreds of dollars on a font when these 200+ free fonts for designers are available to download for free?
From minimalist sans-serifs to classic serifs and more original typefaces, with this list you'll have a massive variety at your fingertips. Whether you're working on a logo design, web page layout or any other project related to graphic design and digital media, you can be sure to find something that suits your needs perfectly.
Ready to get started? Keep reading as we show you our picks for the 200+ best free fonts of 2023. Let's go!
Why you should choose different types of Fonts?
You might be wondering why you should be checking out a list of free fonts in 2023. The answer is simple: your designs need to stand out and make an impact, and the font you choose plays an important role in making that happen. Different types of fonts can evoke different emotions, draw attention to certain elements, or even help create a sense of harmony within your design.
The best way to find the perfect font for your project is to explore a broad range of available options. That way, you can pick the one that suits your needs best and makes your design pop. Whether it's a modern sans serif typeface or a classic script style, there are plenty of great free fonts available in 2023 for you to choose from.
Take some time to explore all the amazing options out there and you'll soon find yourself with a tailor-made font that brings your vision to life!
Overview of font psychology
Fonts aren't just letters and numbers—they're an integral part of design and can send powerful messages to your audience. That's why it's so important to choose the right font for your project.
It's not just a matter of which looks best; you have to consider how the font makes the viewer feel.
For example, you wouldn't use a bold, angular font for a romantic project because it would send the wrong message. A softer font with rounded edges would be more appropriate in this situation. On the other hand, if you want to convey strength or power, then a bolder font might be better suited.
It's also important to think about how your chosen font works with the rest of your design elements. If they don't work together, then it could create an overall aesthetic that doesn't quite fit with what you're trying to accomplish.
For example, if you have a modern design but choose a script-style font, it might look out of place.
By understanding how fonts can affect our emotions and our overall design esthetic, we can make sure that we select the perfect fonts for our project every time!
Popular Free Sans Serif Fonts for Designers
As a designer, you know the value of choosing great fonts. Sans Serif fonts are especially popular because they're easier to read. Here's a quick rundown of some of the best free Sans Serif fonts you can use in 2023: Montserrat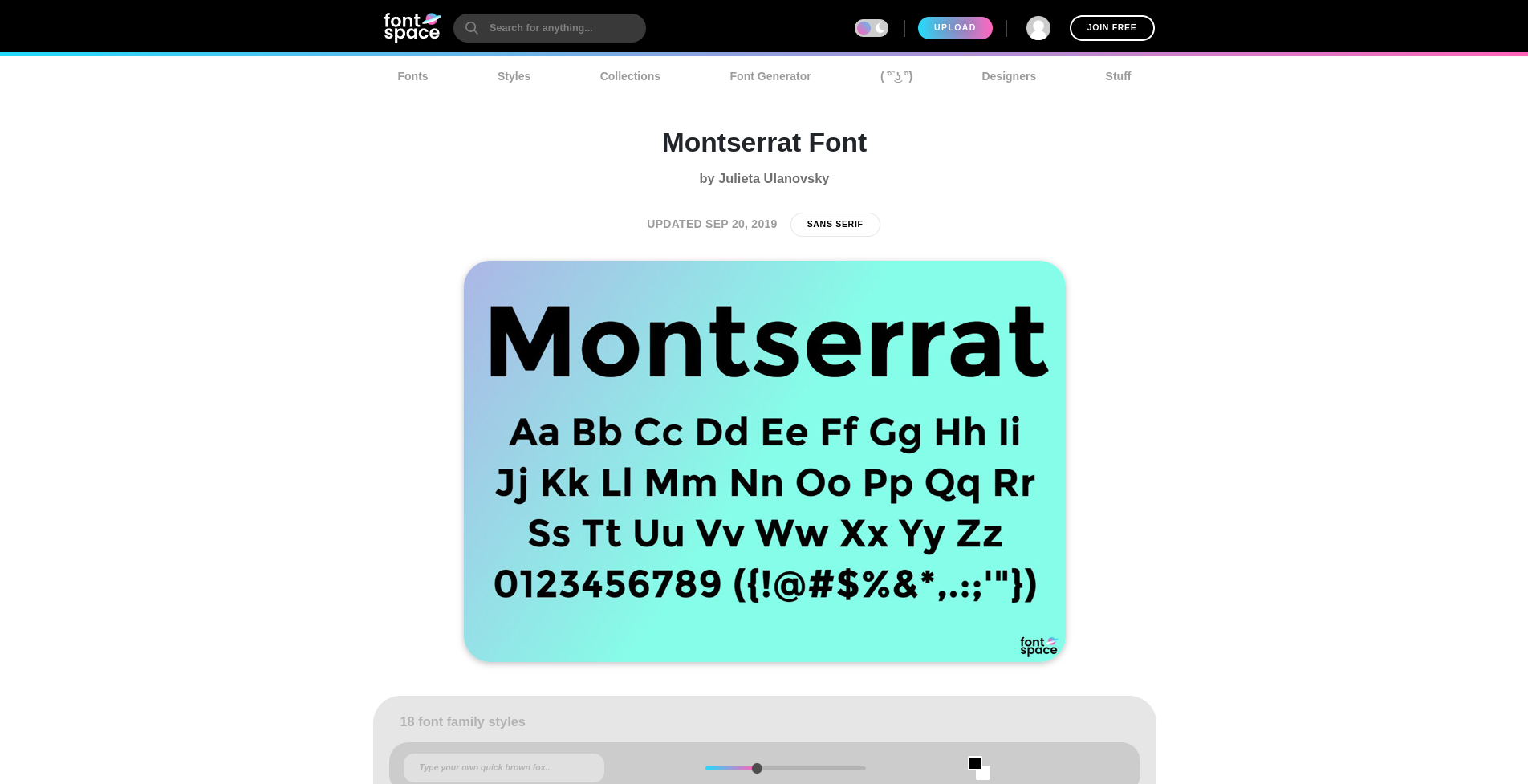 This font family is inspired by the traditional signage found in the Montserrat neighborhood in Buenos Aires. The updated version comes with 18 styles, plus a variable font version. Its unique letterforms make this font stand out and make it perfect for making logos and headlines that need to be noticed. Quicksand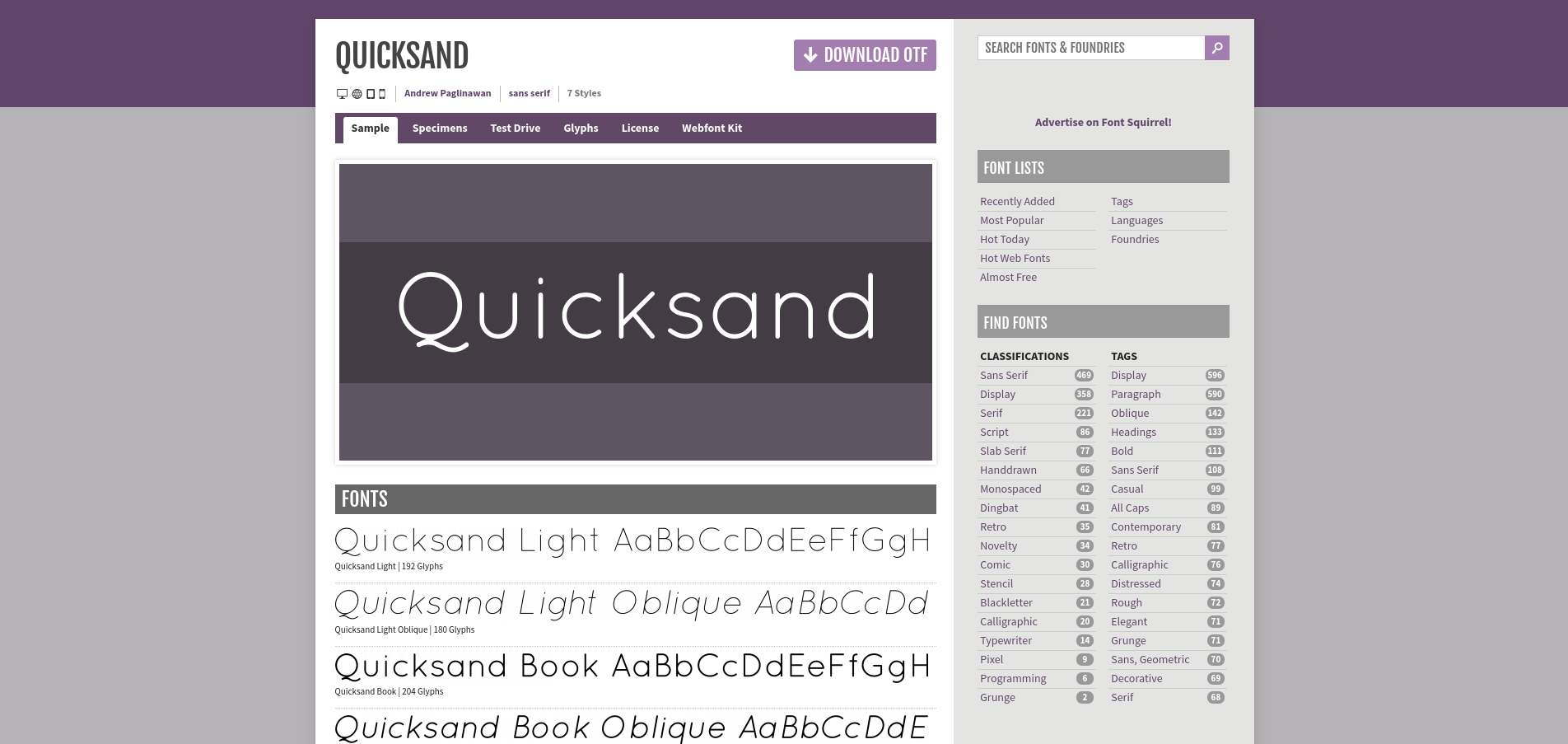 Designed by Andrew Paglinawan, this sans serif typeface comes with 8 weights and italics, making it easy to find just the right combination for whatever project you're working on. It can be used for both business purposes and more creative projects, like poster designs. Roboto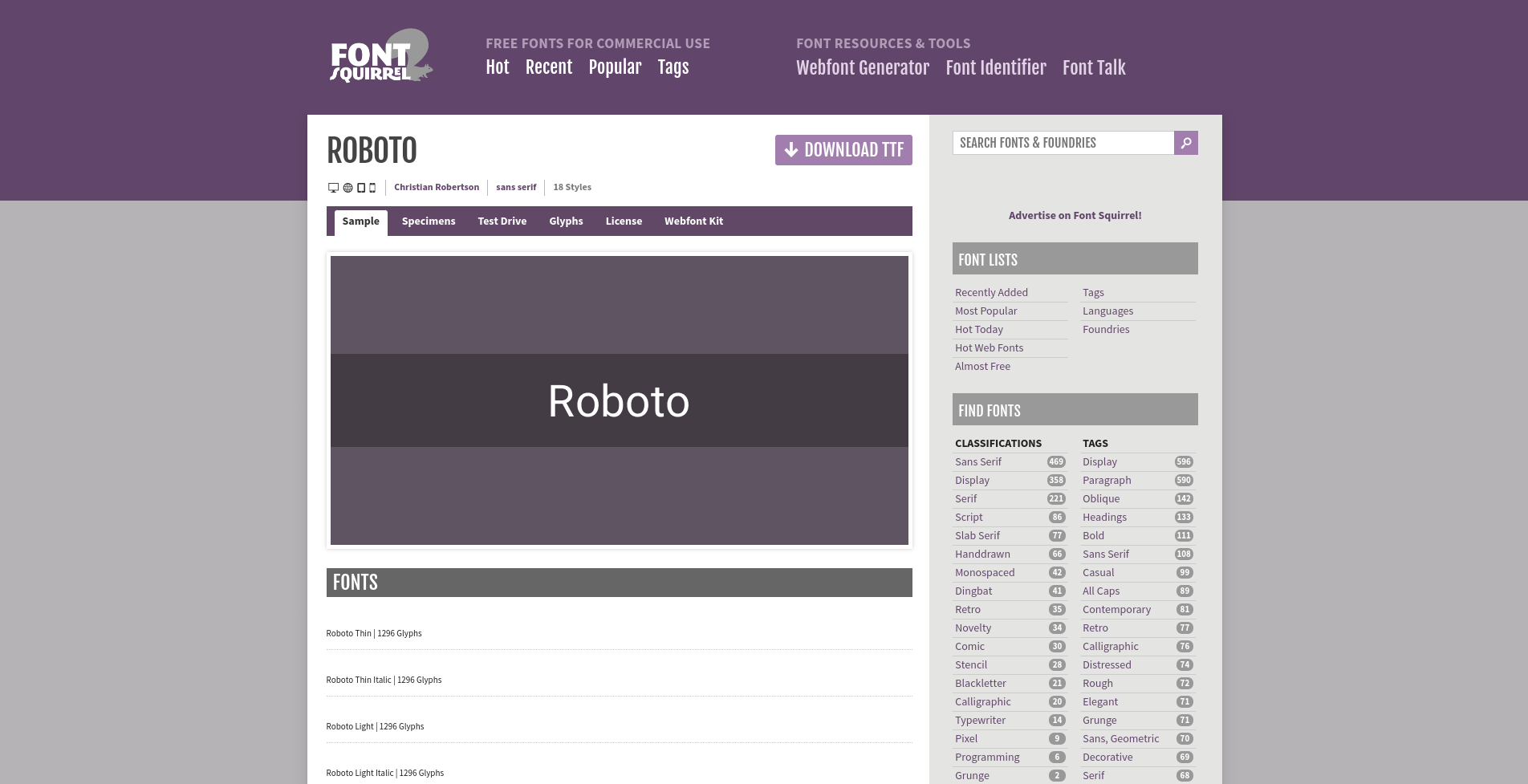 This font was developed as an easy-to-read sans serif typeface for mobile phones, but turned out to be so popular that it was adopted as part of Google's open source fonts catalog in 2011. Thanks to its modern look, it's become one of the most used fonts on websites today — not just mobile phone platforms. Lato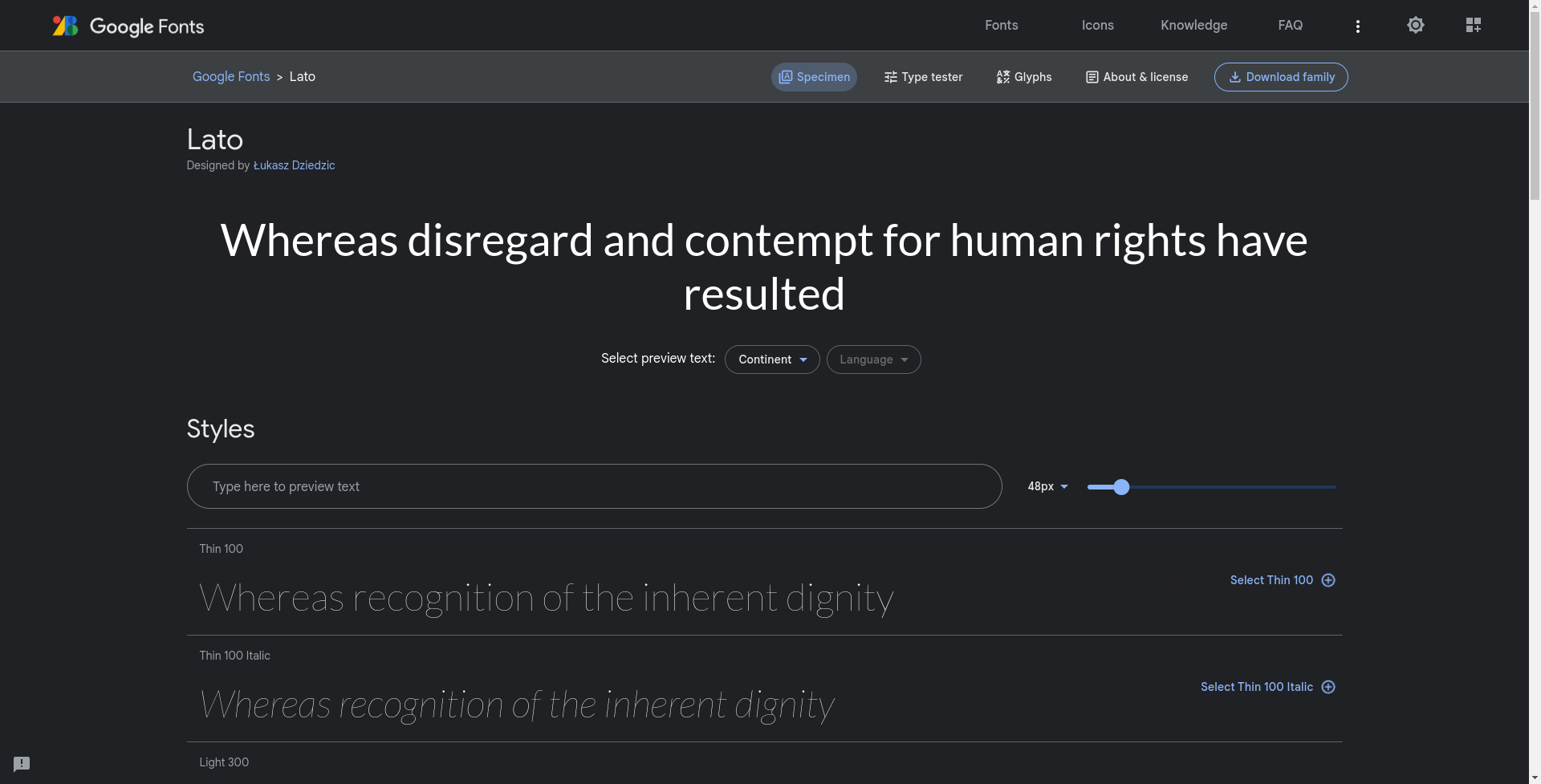 This modern sans serif typeface was designed by Łukasz Dziedzic, who wanted something soft and rounded that could look good both on small print and desktop applications. If you're seeking something bolder and more eye-catching, Lato also has some heavier styles with sharper curves that can make your design truly pop. Nunito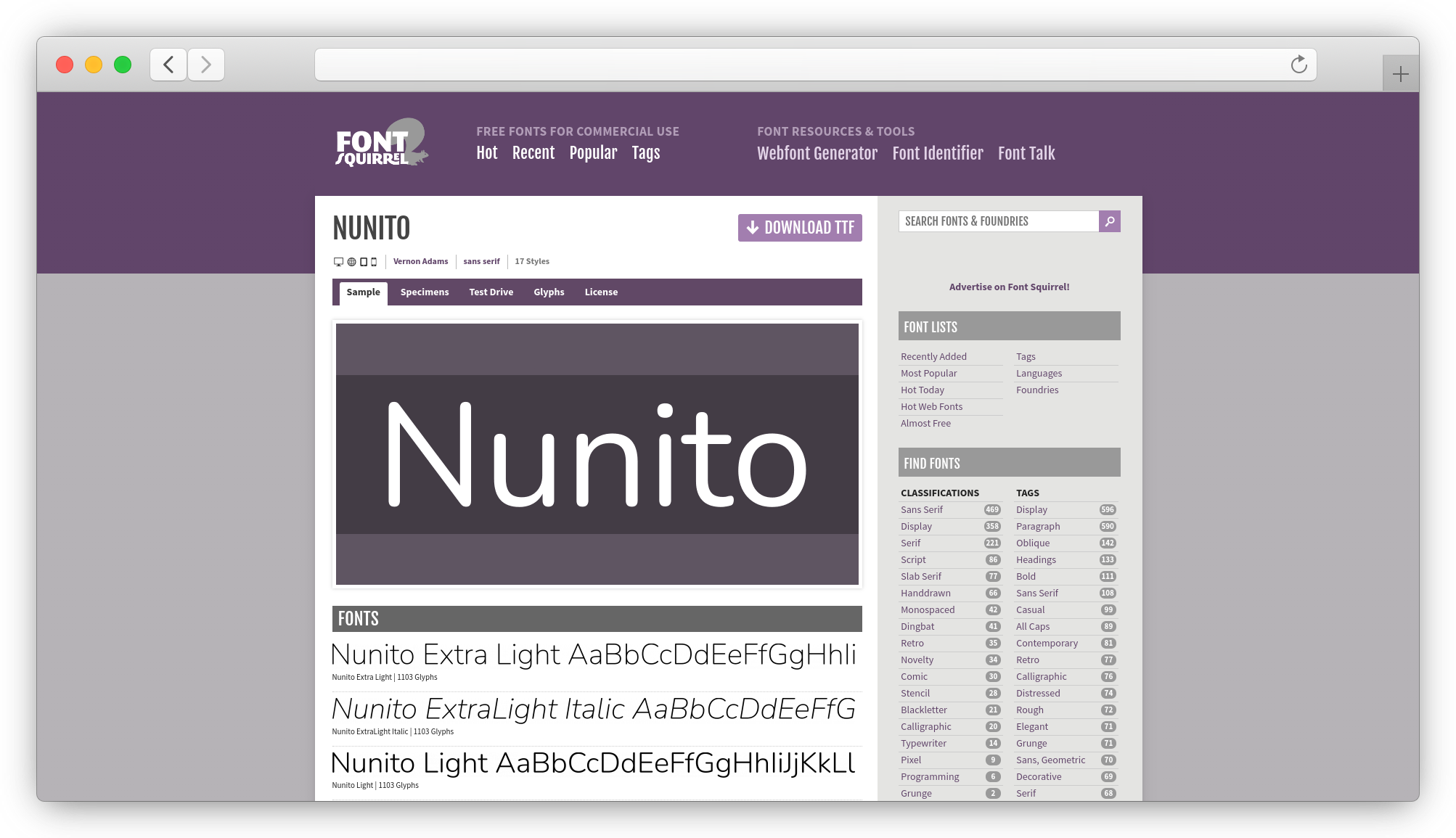 Created by Vernon Adams, Nunito has a friendly, rounded design that makes it easy to read. This font family is designed to work well in small spaces and on digital devices, but it still creates an engaging, professional look. It comes in 8 weights ranging from light to bold and also has a sans serif version. Open Sans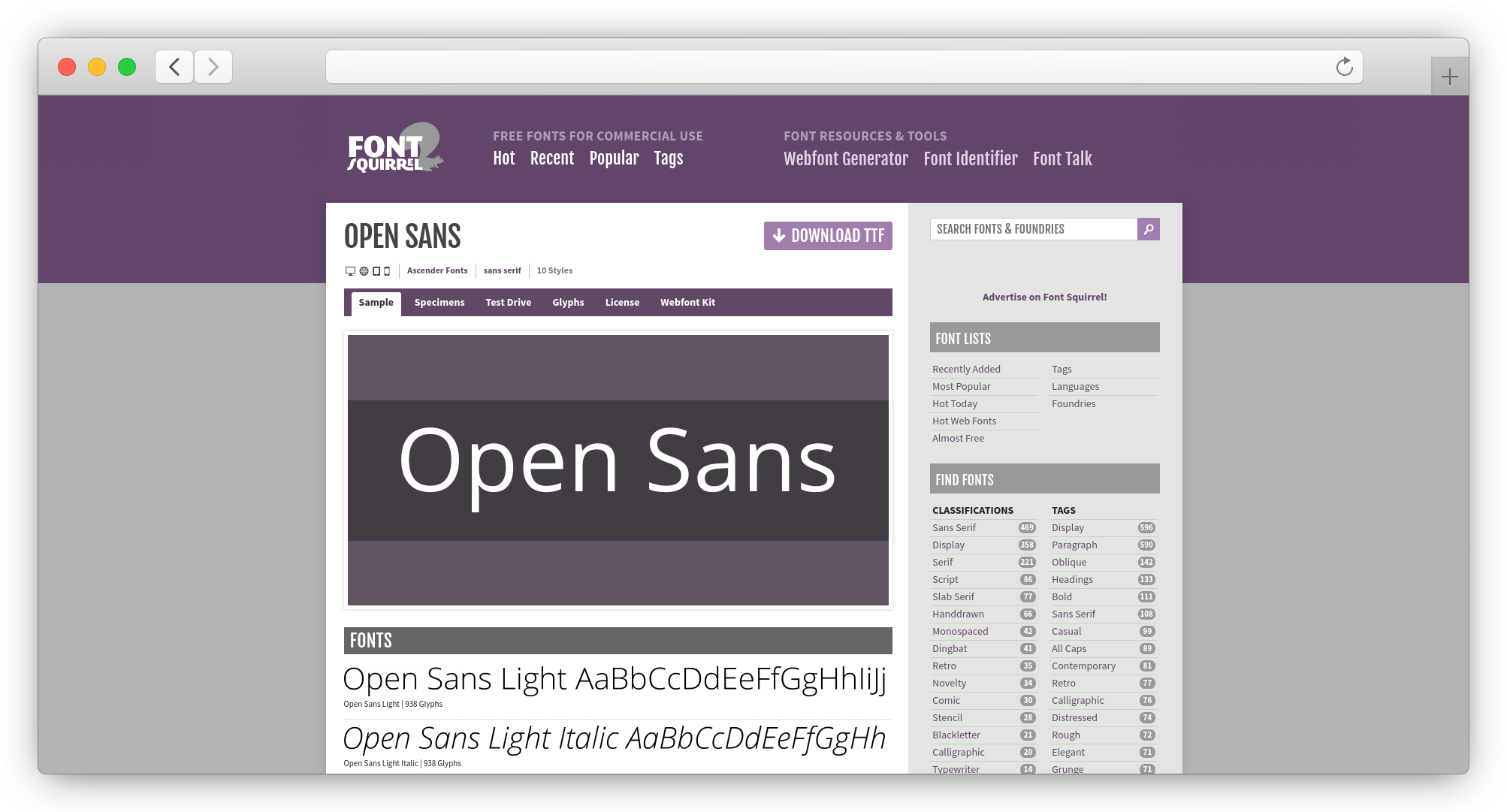 This font was designed for small screens and digital devices with a humanist design. It features large apertures to make it more legible, and it comes with 10 styles, so you have plenty of options to choose from. Open Sans is a great choice for businesses seeking a professional and contemporary look. Raleway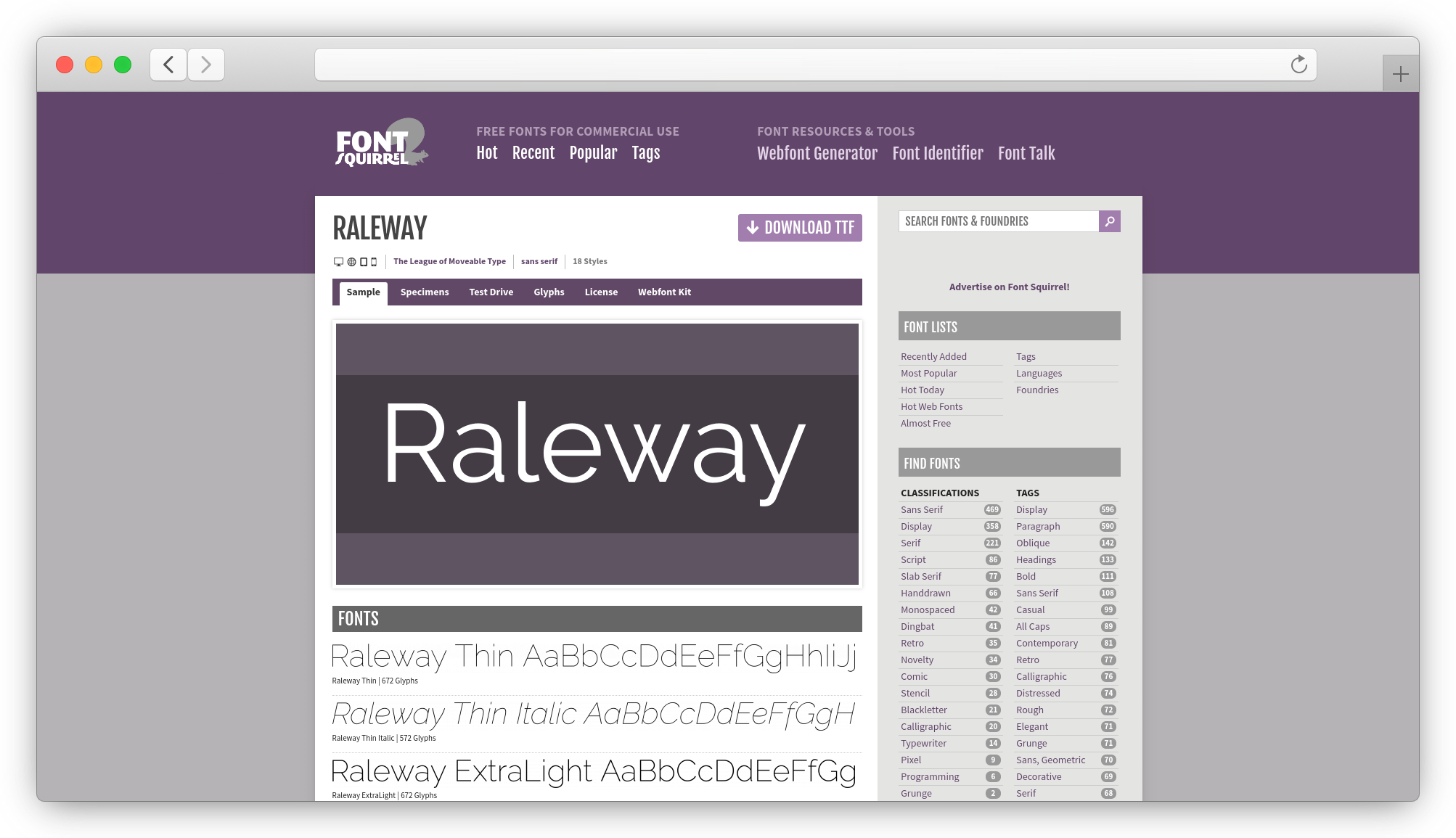 This sans serif font is a great choice for anyone seeking a modern look. It comes with 18 styles ranging from thin to black, so you can create unique, eye-catching designs that are sure to get noticed. Raleway is also versatile enough to work well on both print and digital designs. Oxygen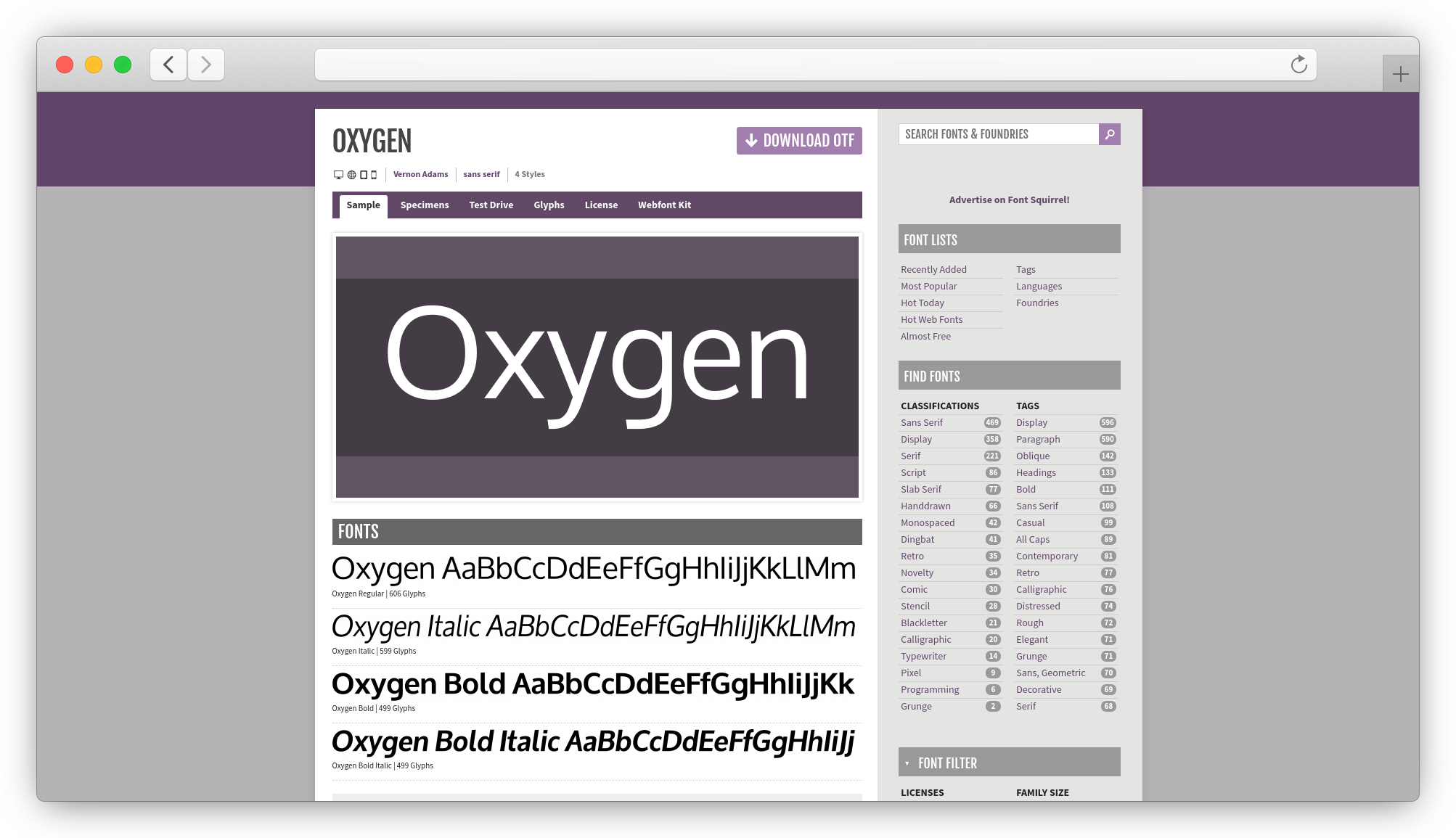 This modern sans serif typeface is designed to be light and elegant without sacrificing legibility. With 8 weights and italics, you can easily find just the right font to give your design a professional and modern look. Oxygen is a great choice for businesses and designers seeking something with a bit of "breathing room." Playfair Display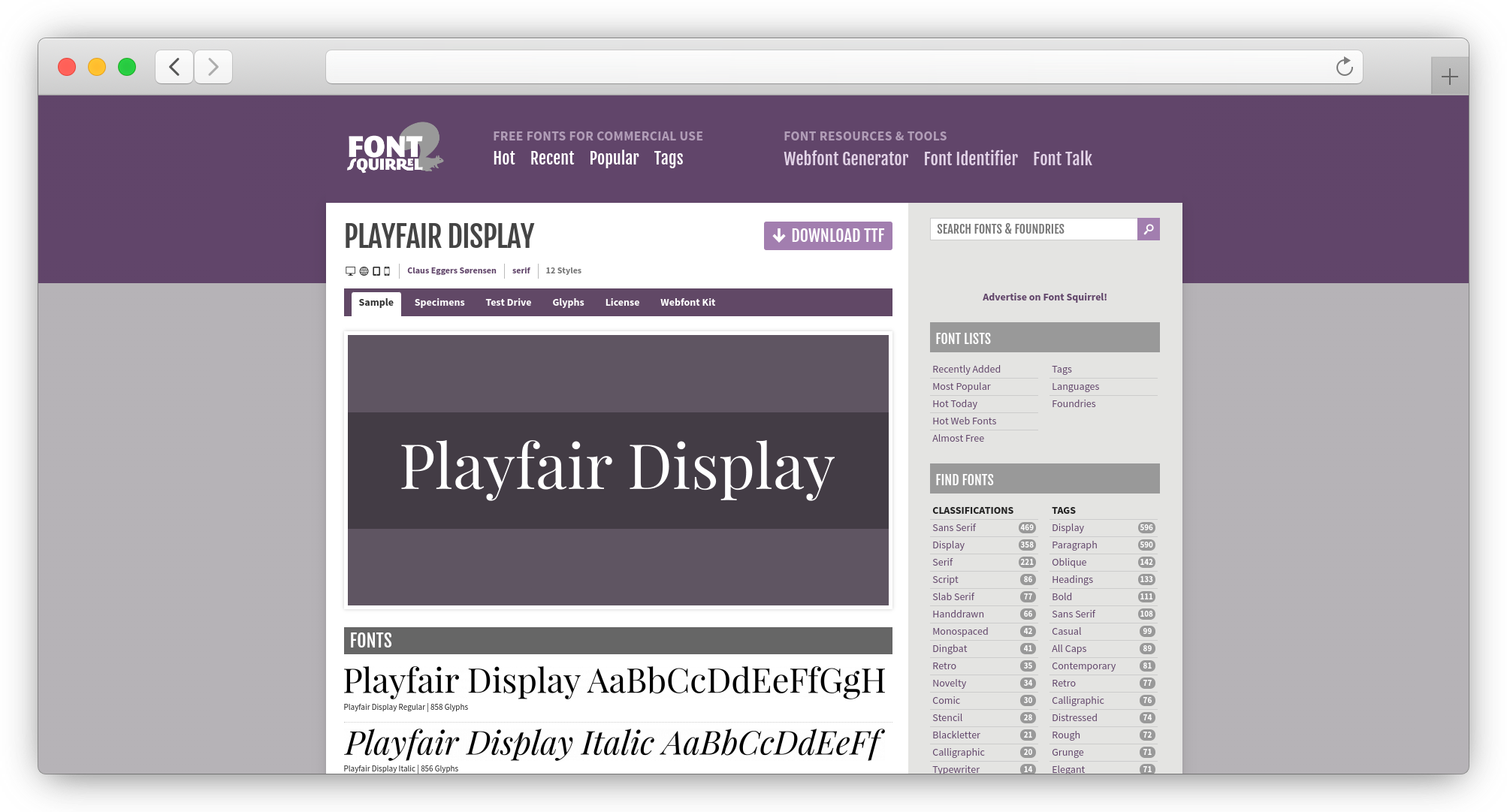 This font family was designed to stand out and make a statement. It features 8 weights ranging from thin to black, plus italics, and it comes with old-style numerals, ligatures, and swashes, so you can create truly unique designs. Playfair Display is perfect for headlines that need to be seen.
Great Free Serif Fonts for Designers
Serif fonts are the older siblings of sans serif fonts and have been around since the 15th century, so you can definitely trust them to give your design project a classic look. If you're looking for some of the best free serif fonts to download in 2023, here are some great options: 1. Arvo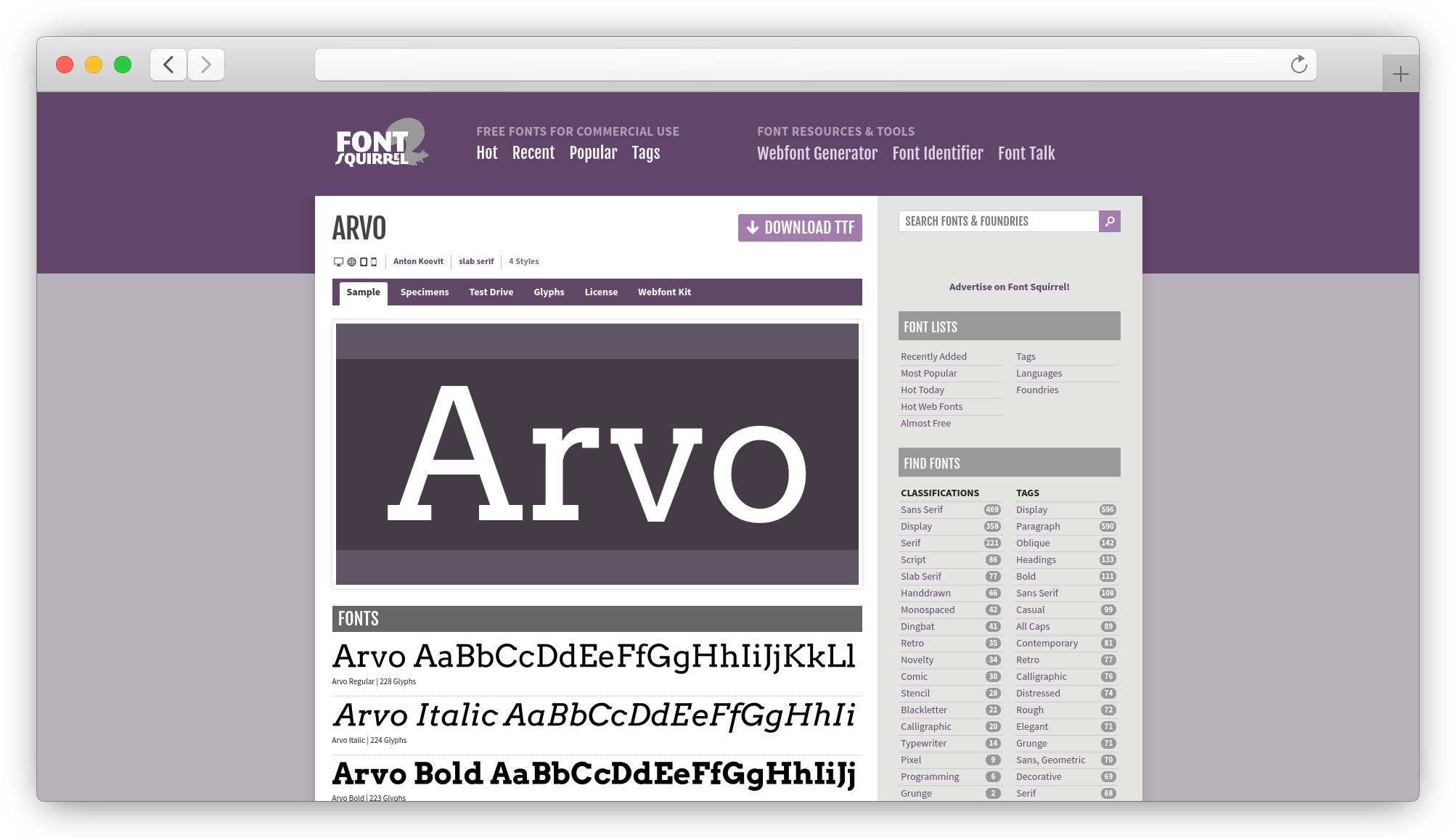 Created by Anton Koovit, Arvo is a geometric serif typeface that's perfect for large point sizes. It has strong serifs and low contrast strokes, so it looks great when you use it for headlines. 2. Libre Baskerville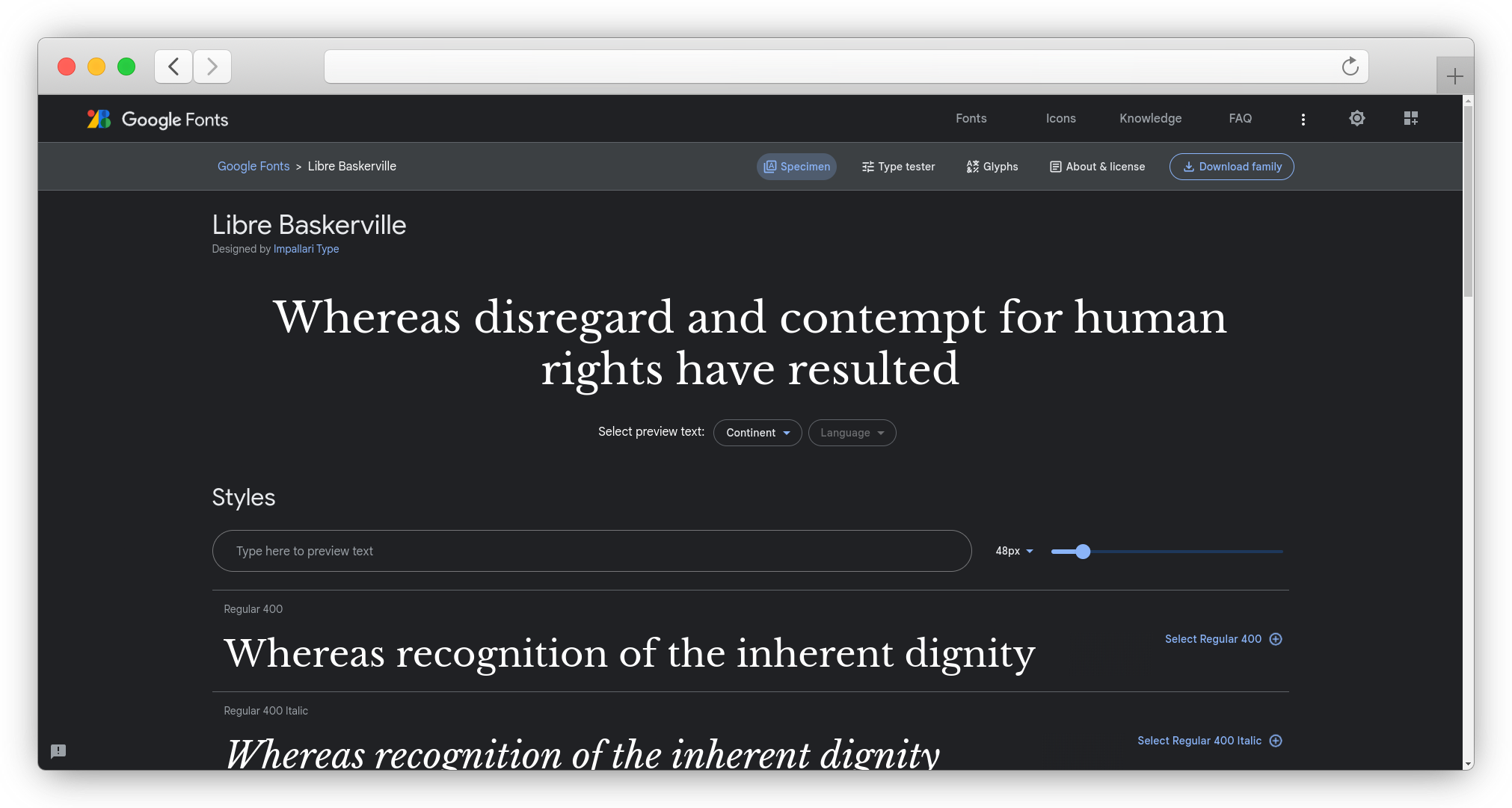 This classic font is the perfect choice if you want to add an old-fashioned charm to your design. It was created by Impallari Type by using two typefaces from the 19th century as inspiration—Baskerville and Thorowgood Grotesque. 3. Merriweather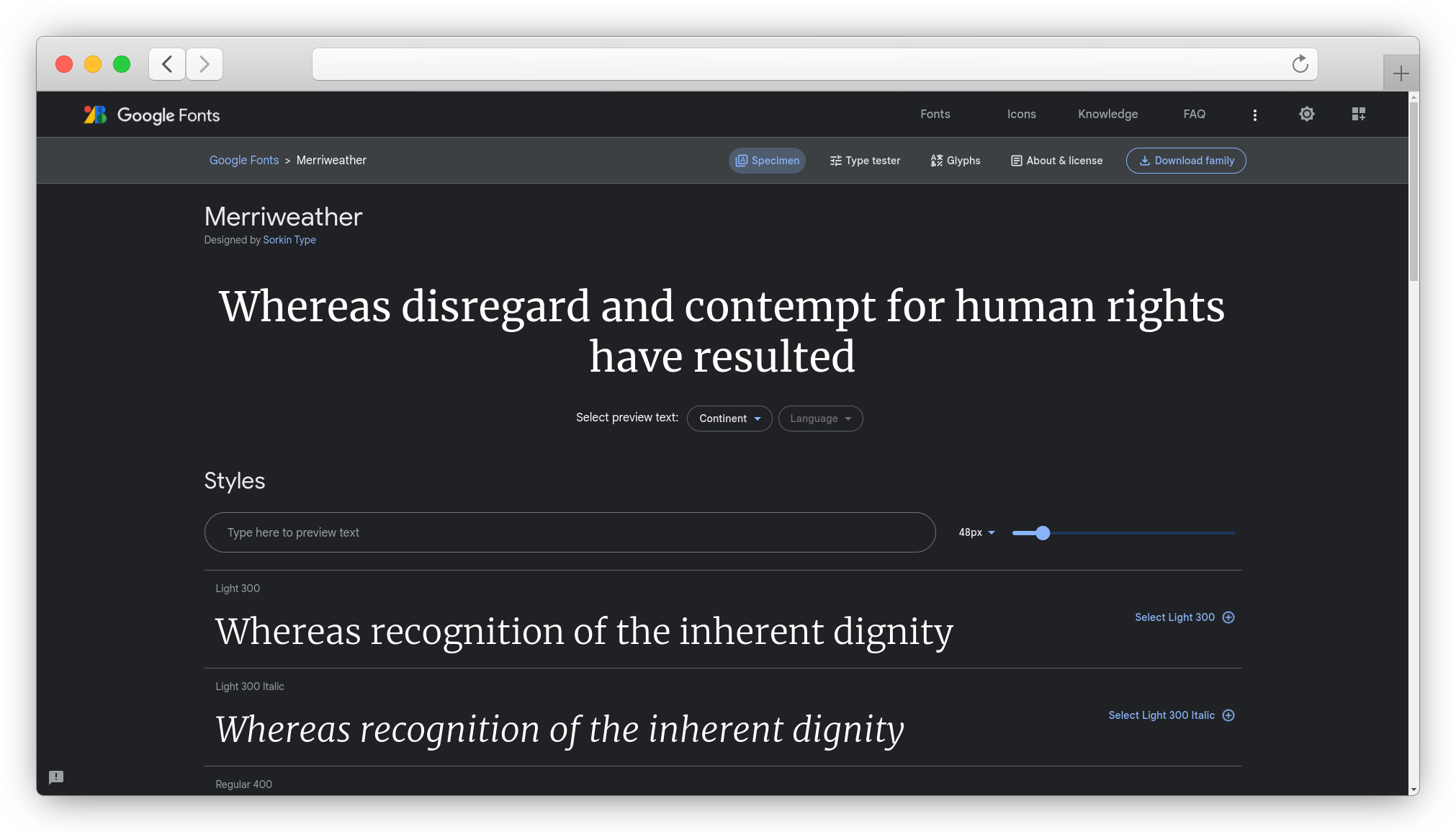 Created by Sorkin Type Co., Merriweather is a great go-to font if you need something that's legible even when used at small point sizes. It also comes with support for multiple languages, making it a great option for international users or those who need to write in different languages in their designs. 4. Lora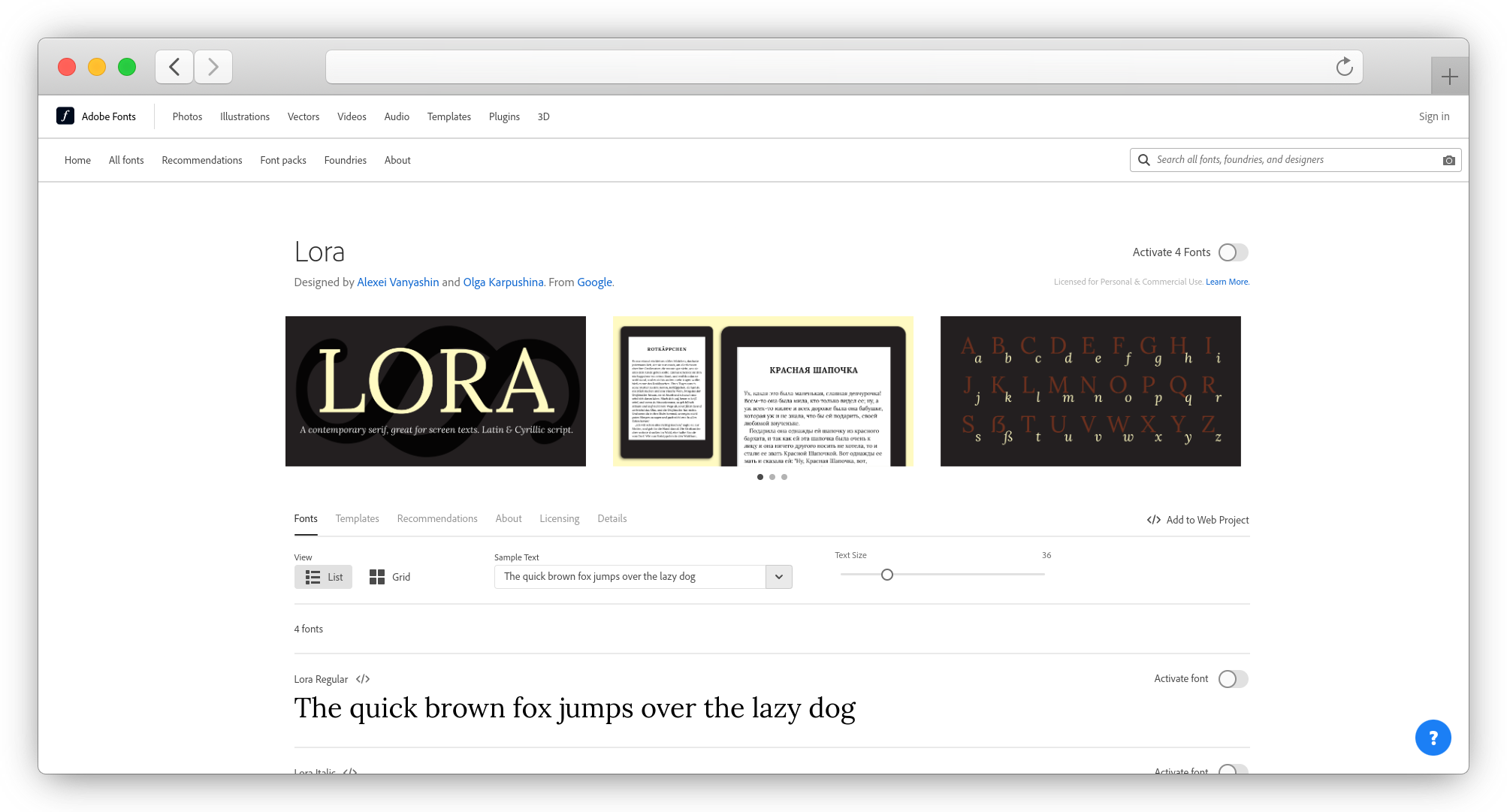 Lora is a contemporary serif font that's inspired by old-style calligraphy letters from the 16th century. Its slanted letters create an elegant feel, making it perfect for formal designs like invitations and wedding cards. So there you have it! As you can see, these free fonts come in many styles and varieties—with
Top Free Script Fonts for Designers
It's no secret that script fonts are immensely popular with designers. Especially when it comes to logo designs and web designs, script fonts can really help to create a unique yet eye-catching look. In 2023, there are plenty of amazing free script fonts you should add to your library. Let's dive in! Milkyway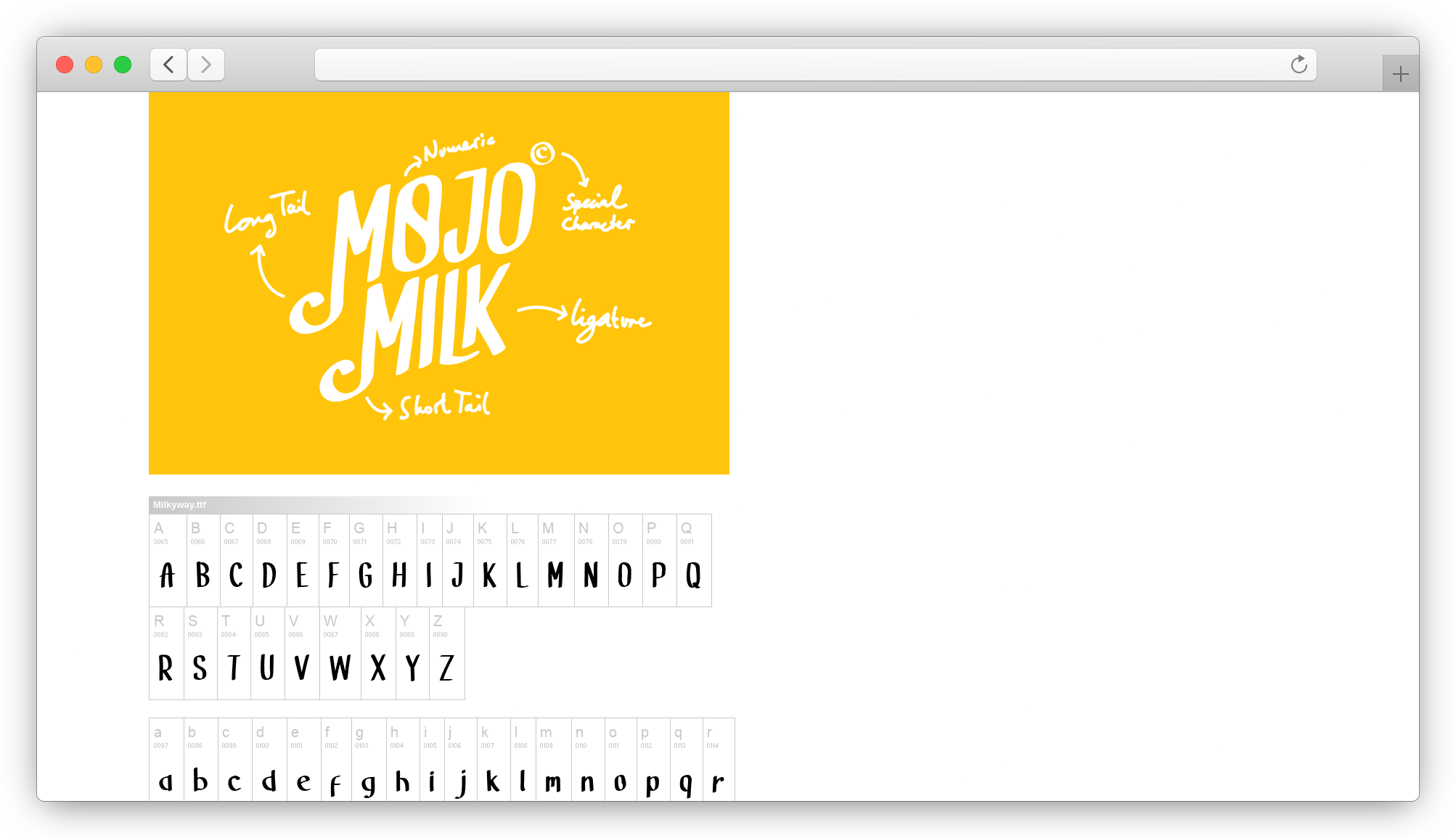 Milkyway has an airy, romantic touch and is quite easy to read. It looks great in large headers, but it also works well for body text sizes since it's legible even at small sizes. It's perfect for making logos and website headers too! Bangle Serif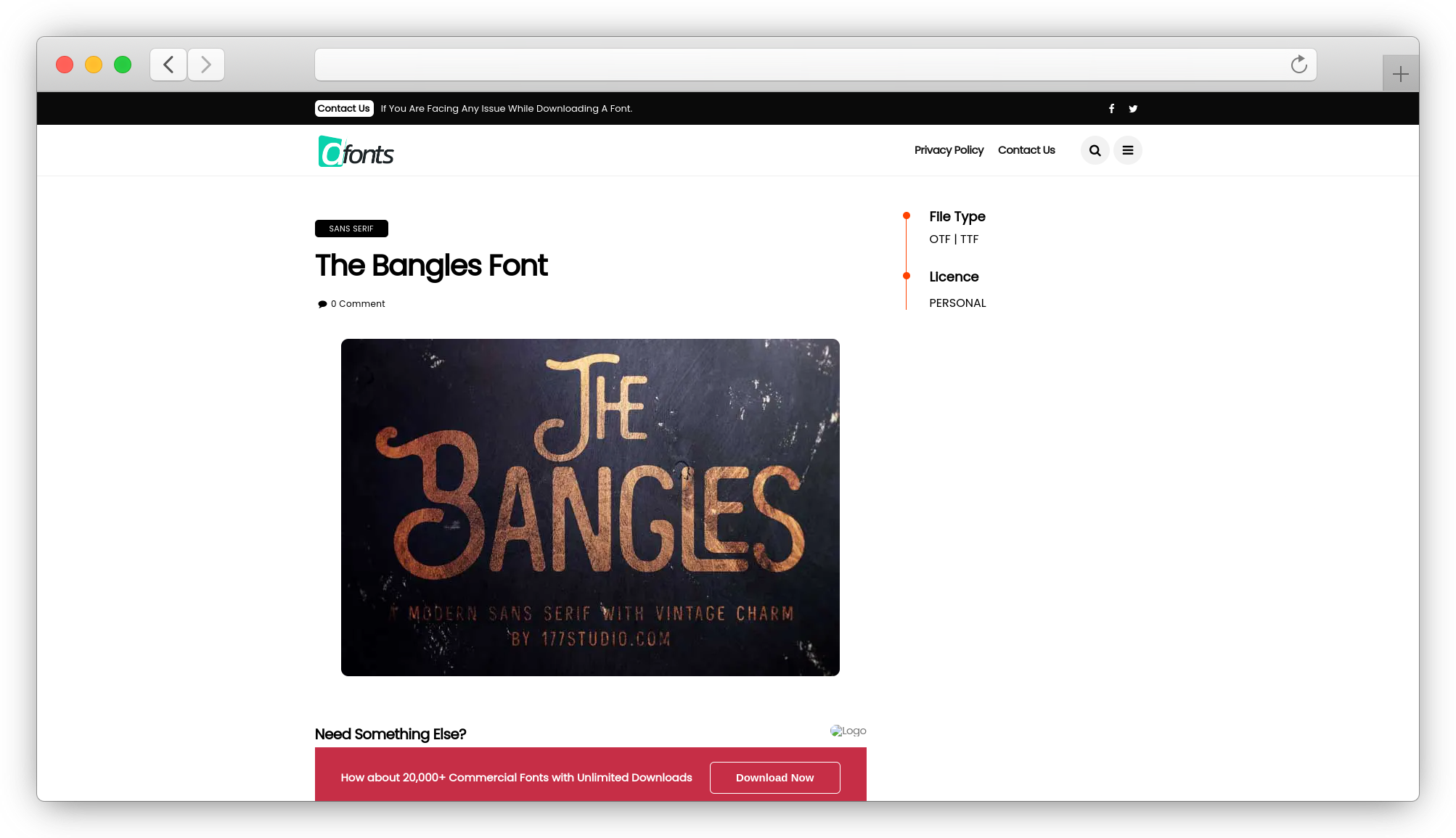 Bangle Serif has a modern twist due to its thick and thin contrast. Its subtle curves offer an elegant look that can work with both graphic design and web designs very well. Its popularity has skyrocketed in the last year as more and more people have begun to use it as their go-to font for projects. Seneca
Seneca is a unique, modern script font that draws inspiration from brush lettering and calligraphy while still maintaining legibility at smaller text sizes. This makes it perfect for headlines and titles, but you could also use it to add a stylish touch to body text if you want your design project to stand out from the crowd. Plus, its modern curves make it great for logos too! Sverige Script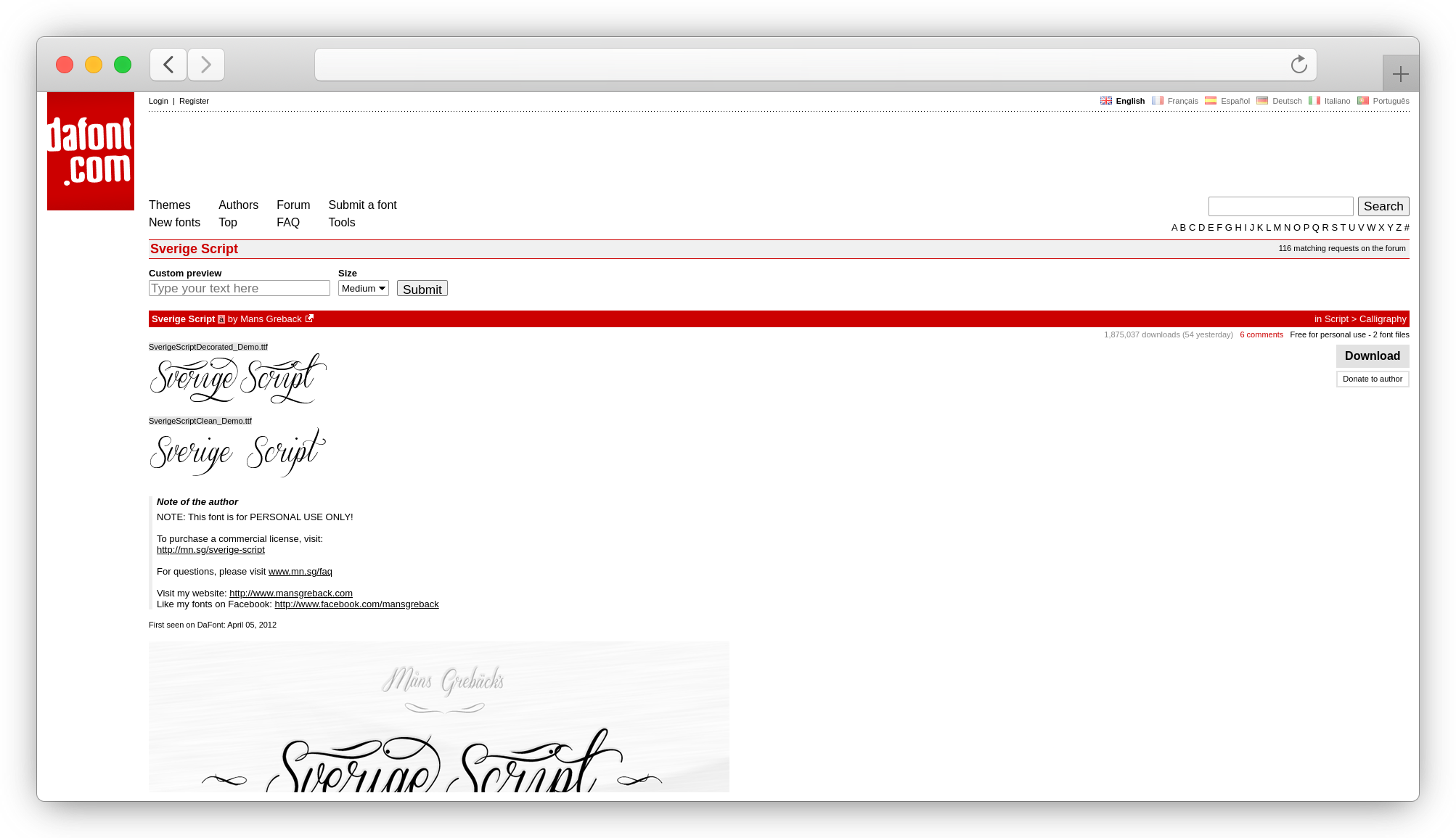 Sverige Script is bold and beautiful script font with plenty of personality and character — perfect for making an impact on any design project you do. The distinct upright strokes give this font a playful yet sophisticated vibe — perfect if you want your work to look more professional without losing its stylish Mrs Saint Delafield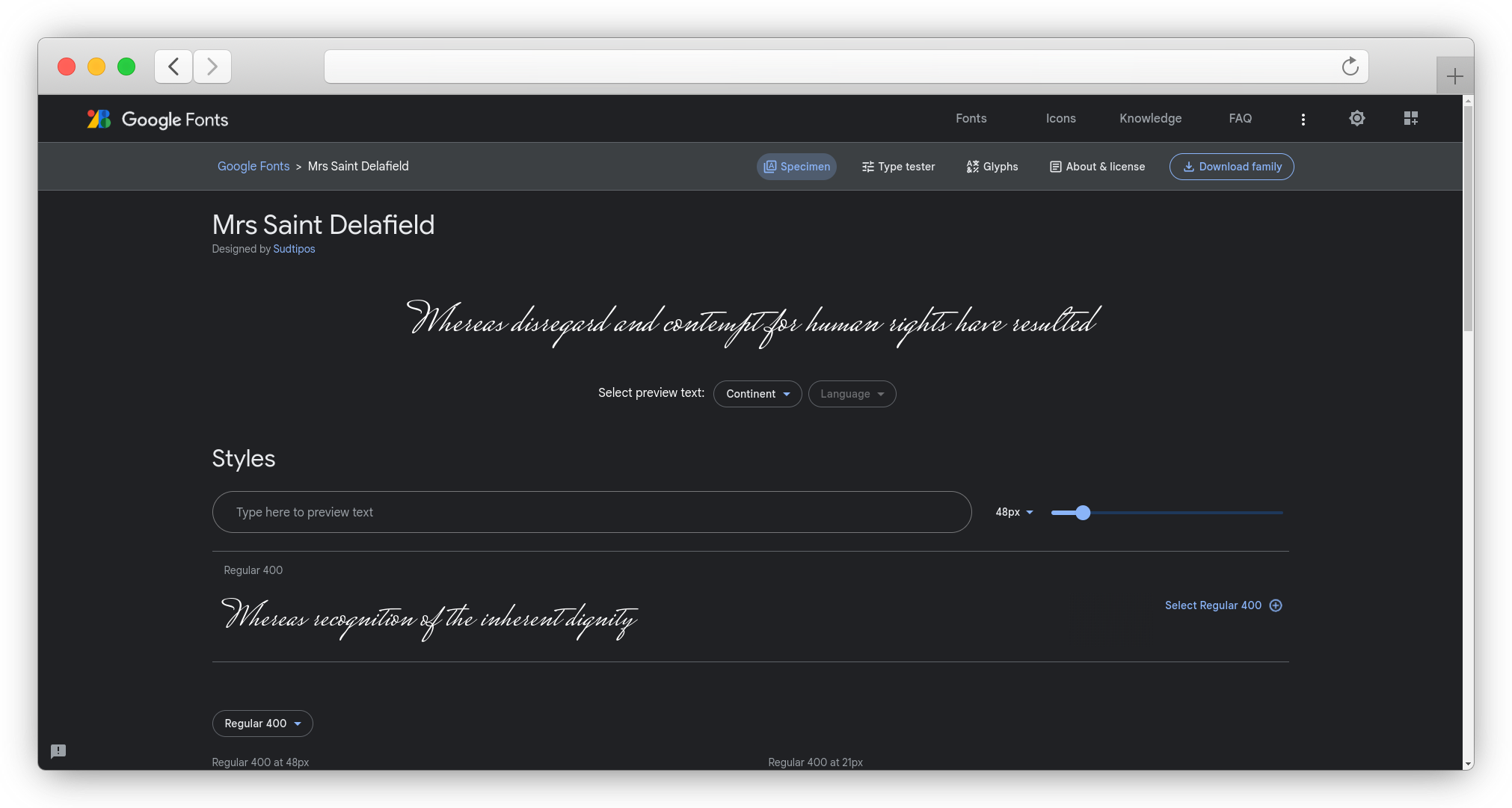 Mrs Saint Delafield is an adventurous brush script font that combines vintage vibes with a modern touch. Its playful, oversized characters will stand out on any design project you work on, and the gorgeous, textured look makes it perfect for any project you do. Plus, its elegant curves make it great for logos and website headers. Bumbastika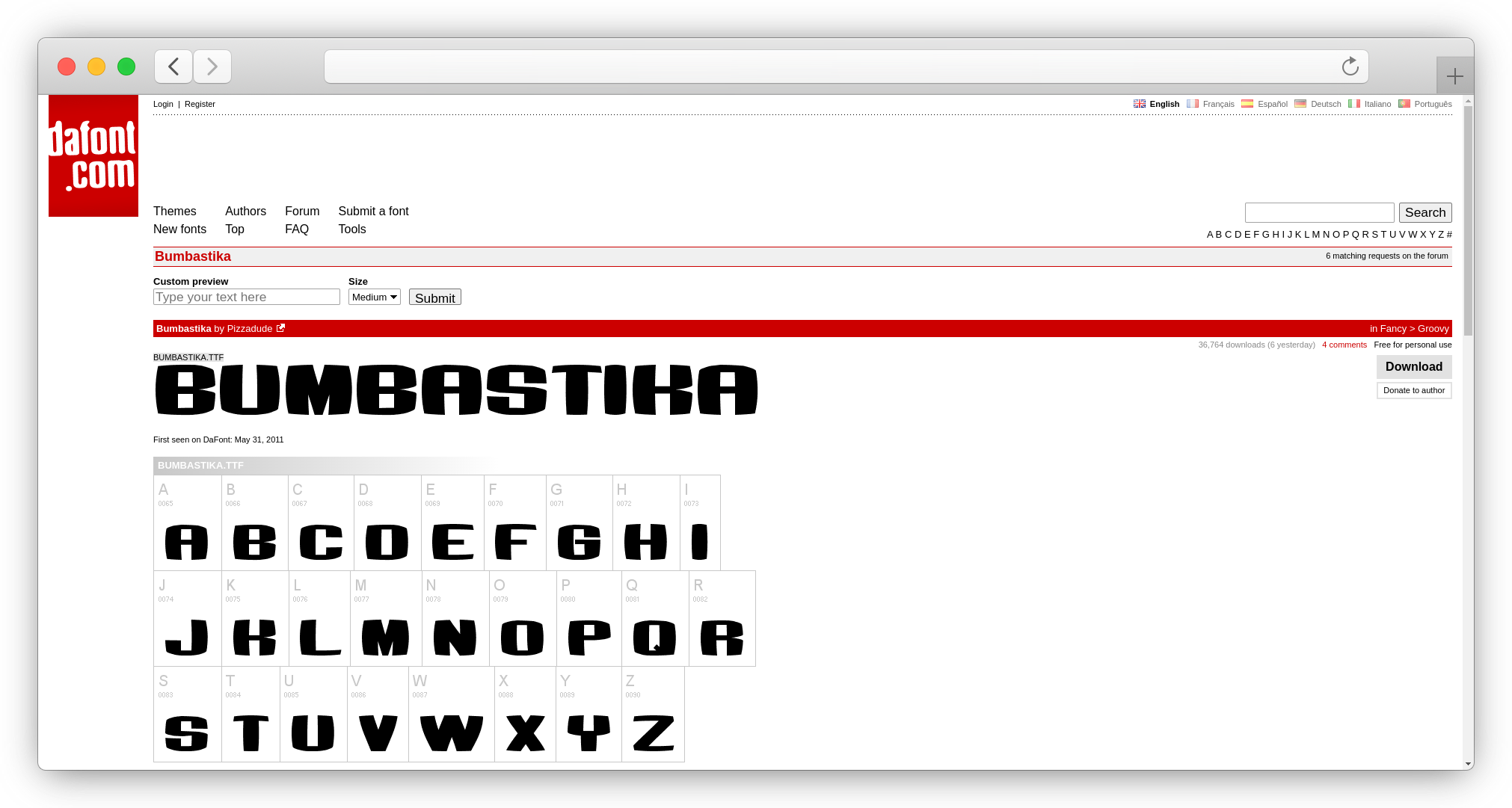 Bumbastika is a modern script font with an elegant, sophisticated touch. Its tilted characters give the font a slightly playful look, while its thin strokes make it great for logo designs and adding a subtle yet stylish touch to any project you do. Plus, it looks fantastic on both digital and print designs, too! Hansom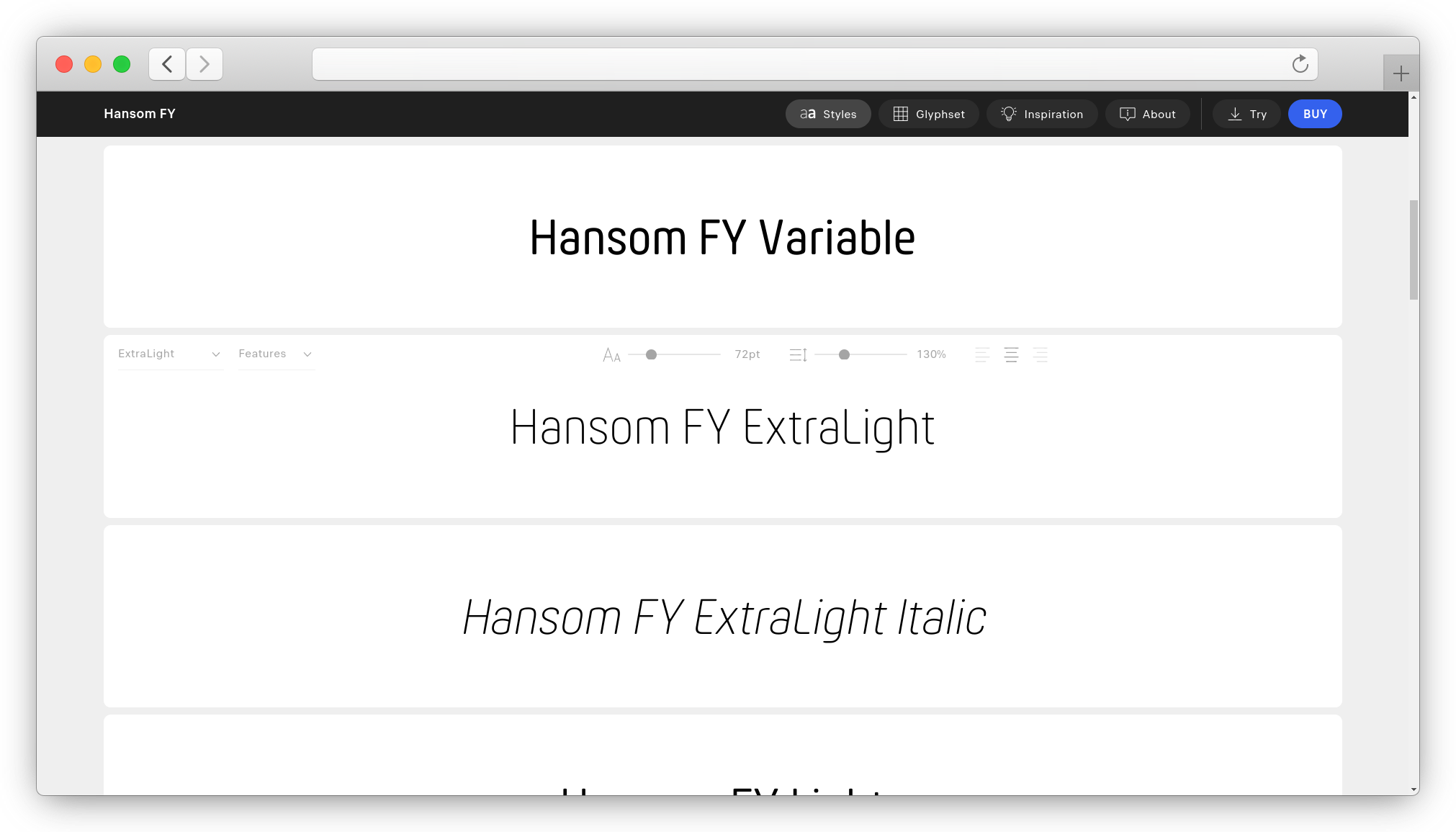 Hansom is a unique take on a classic brush script font. Its upright curves mix with its thicker characters to create a font that looks great for both logo designs and for adding a stylish touch to any design project you do. Its vintage-inspired look will make any design look timeless and classic, yet still modern and stylish. No matter what type of design project you're working on, these top free script fonts are sure to help you create something that stands out from the crowd in 2023. Whether you're looking for something subtle and sophisticated or bold and adventurous, these fonts can help you create a design that's truly unique.
Fun and Whimsical Free Display Fonts for Designers
When it comes to free fonts for designers, there are plenty of fun and whimsical display fonts out there for you to choose from. From hand-drawn scripts and brush strokes to bold, all-caps fonts, here are some of the best free display fonts that you can download in 2023: Bigelow Rules font
This fun and playful font was inspired by the classic film Bigelow Rules. It's a handwritten script with an exaggerated, bouncy style that makes it perfect for adding a bit of whimsy to any design project. Armonia font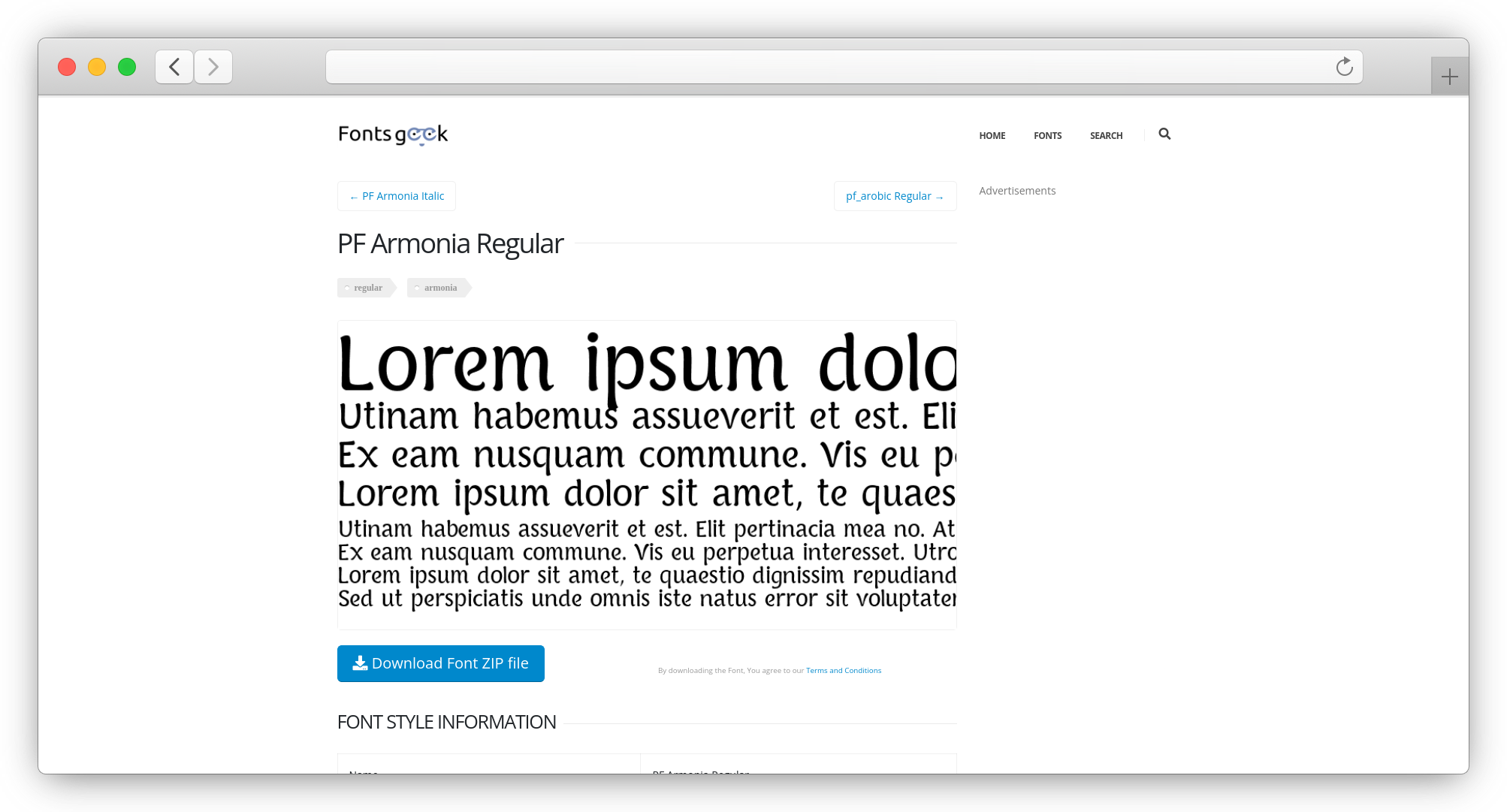 Armonia is a playful brush stroke font with an all-caps style that makes it perfect for headlines or other short pieces of text. This typeface comes in four different weights – light, regular, medium, and bold – so you can easily find the perfect weight for any project. Mascara Script Pro font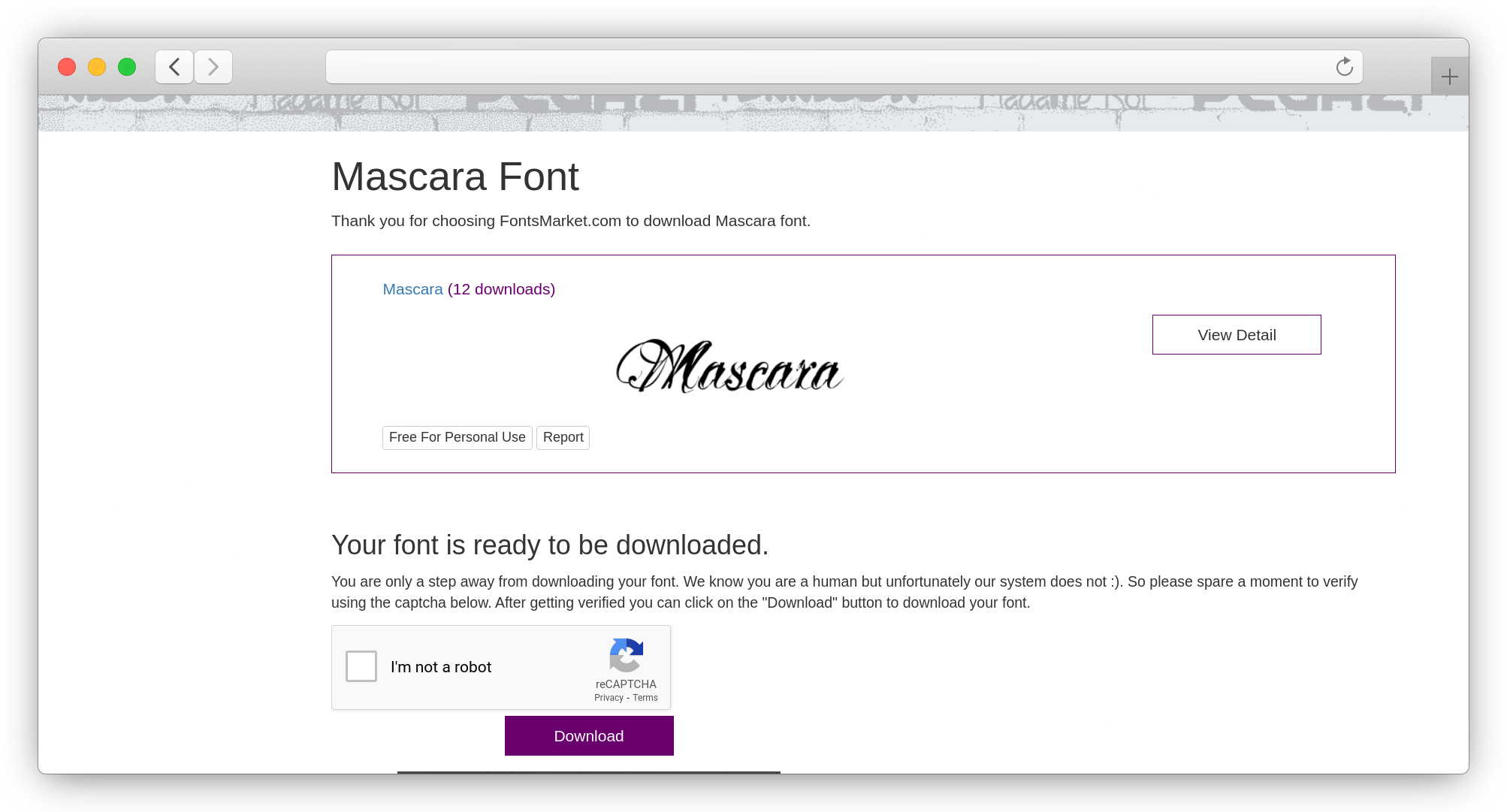 Mascara Script Pro is a beautiful hand-drawn script typeface with a playful yet elegant feel. This script comes in six different weights – thin, light, book, medium, bold, and extra bold – so you can easily find the right style for your design project. Glacial Indifference font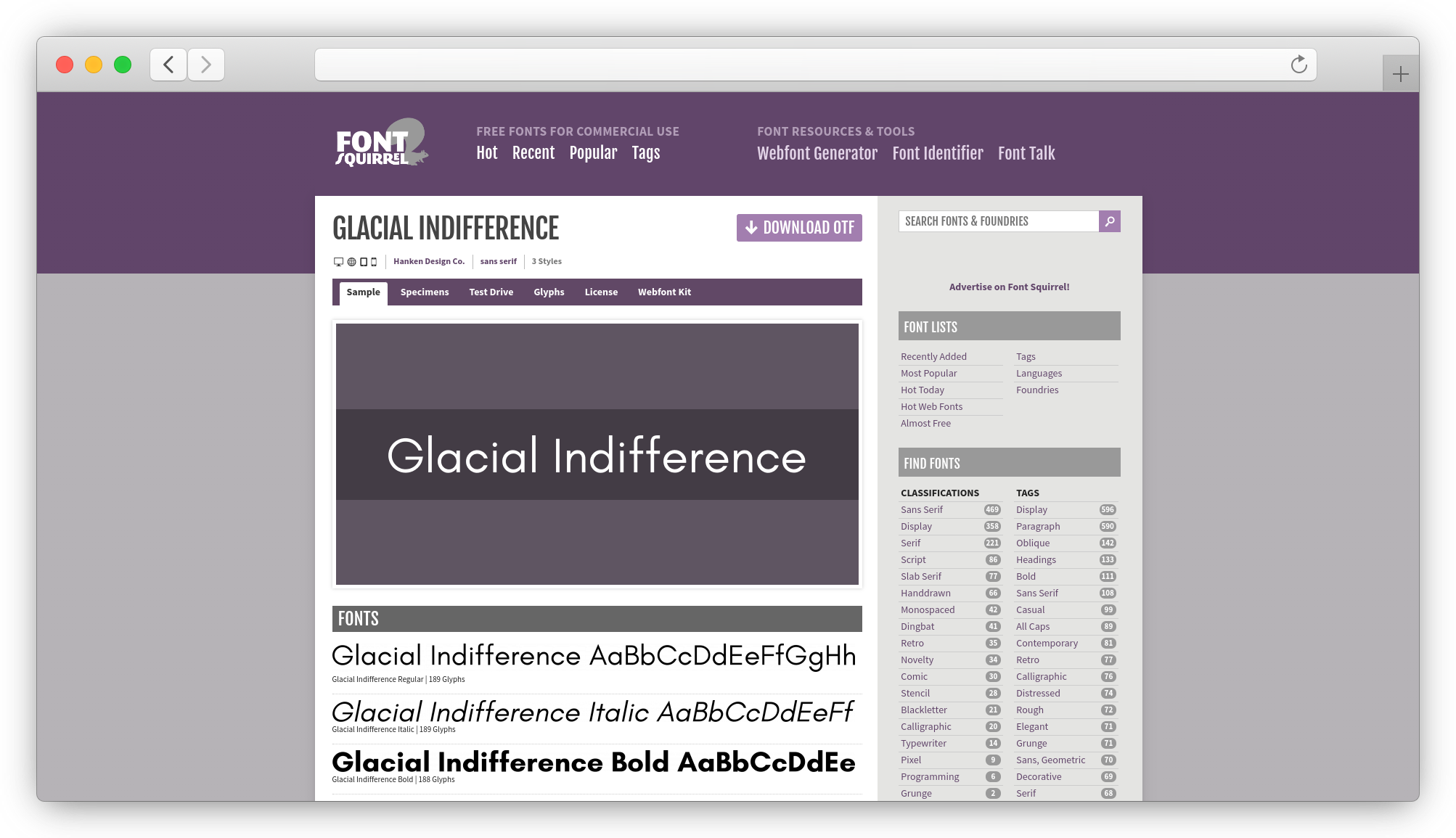 Glacial Indifference is a bold and dramatic font with a modern, angular feel. This typeface comes in three different weights – thin, regular, and bold – and it is great for projects that require a bold and adventurous look. Quirk font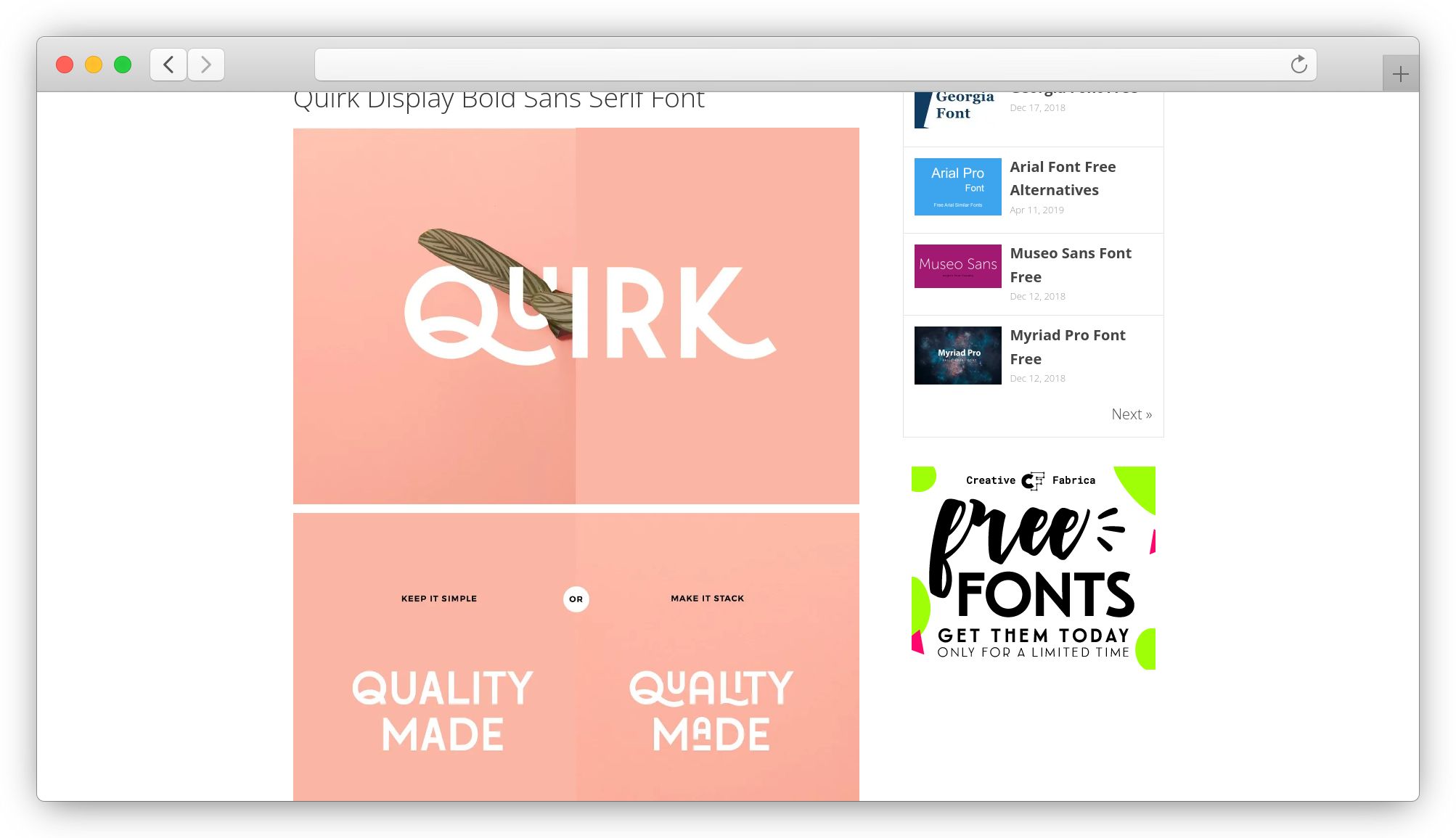 The Quirk font is a whimsical handwritten script with a fun, bouncy style. This font comes in both regular and bold weights, and it is perfect for adding a bit of personality to any project. Dark Crystal font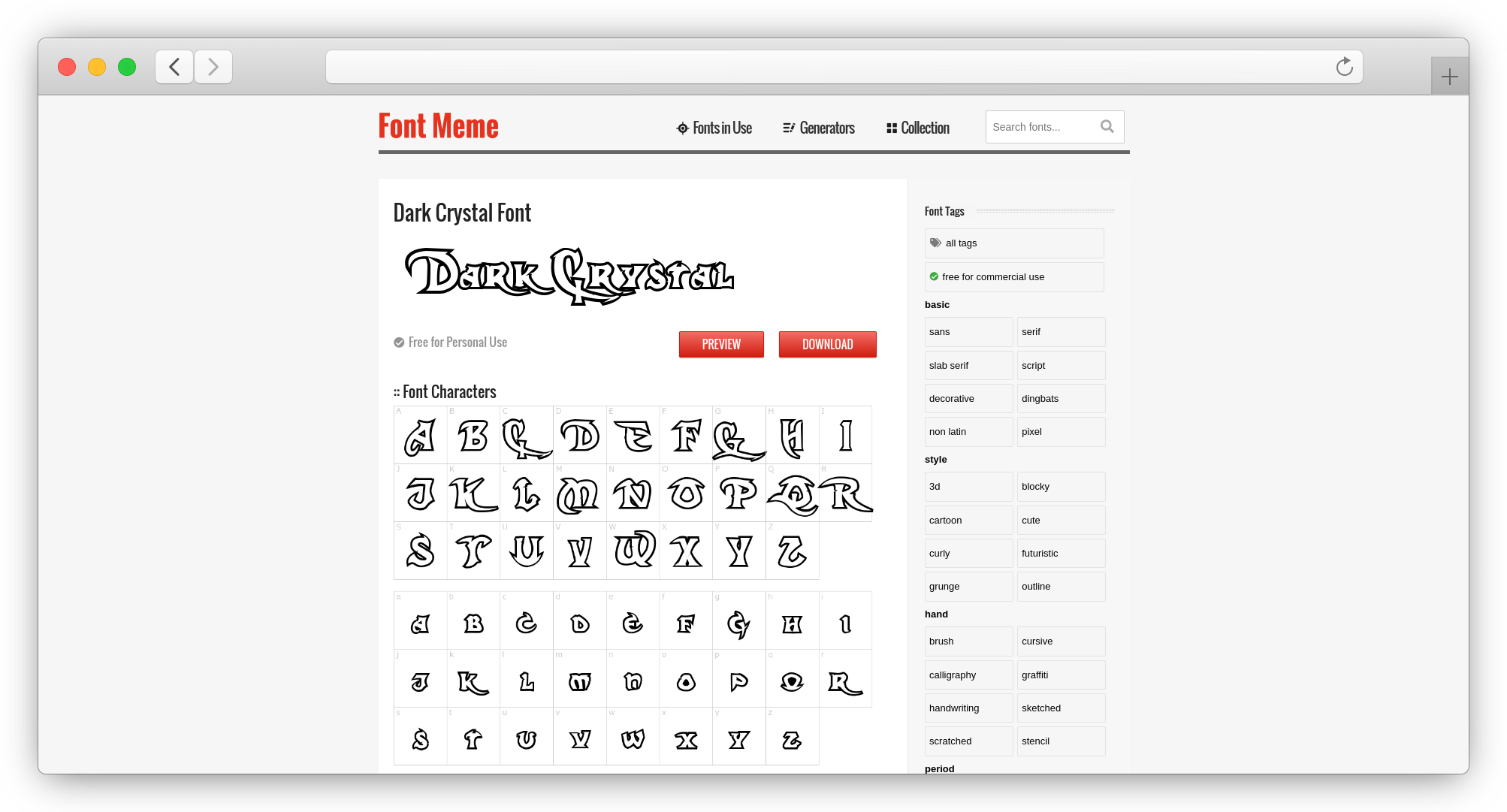 Dark Crystal is a bold, all-caps typeface with an angular, modern look. This font comes in three different weights – light, regular, and bold – and it is perfect for projects that require a bold and dramatic look. No matter what type of design project you're working on, there is sure to be a free display font that will fit the bill. With so many amazing and free fonts available for designers in 2023, the possibilities are endless. Whether you're looking for something bold and modern or whimsical and fun, you can find the perfect free display font for your project.
Unique and Handwritten Free Brush Fonts for Designers
Designers looking to bring a bit of a custom, hand-crafted look to their projects without going the whole hog and actually designing something custom need look no further than brush fonts. Whether you're looking for something scripty, something with a brush stroke, or something else entirely - these 7 unique and handwritten free fonts for designers in 2023 just might fit the bill. Big Brush Script
Who doesn't love an old-fashioned brush script? Big Brush Script is perfect if you're looking for an elegant calligraphic feel but don't want anything too fancy or flashy; this one works best when used with large, eye-catching settings. It comes in all upper case letters so you don't have to worry about figuring out the glyphs and kerning yourself. Simplified Simple Brush Font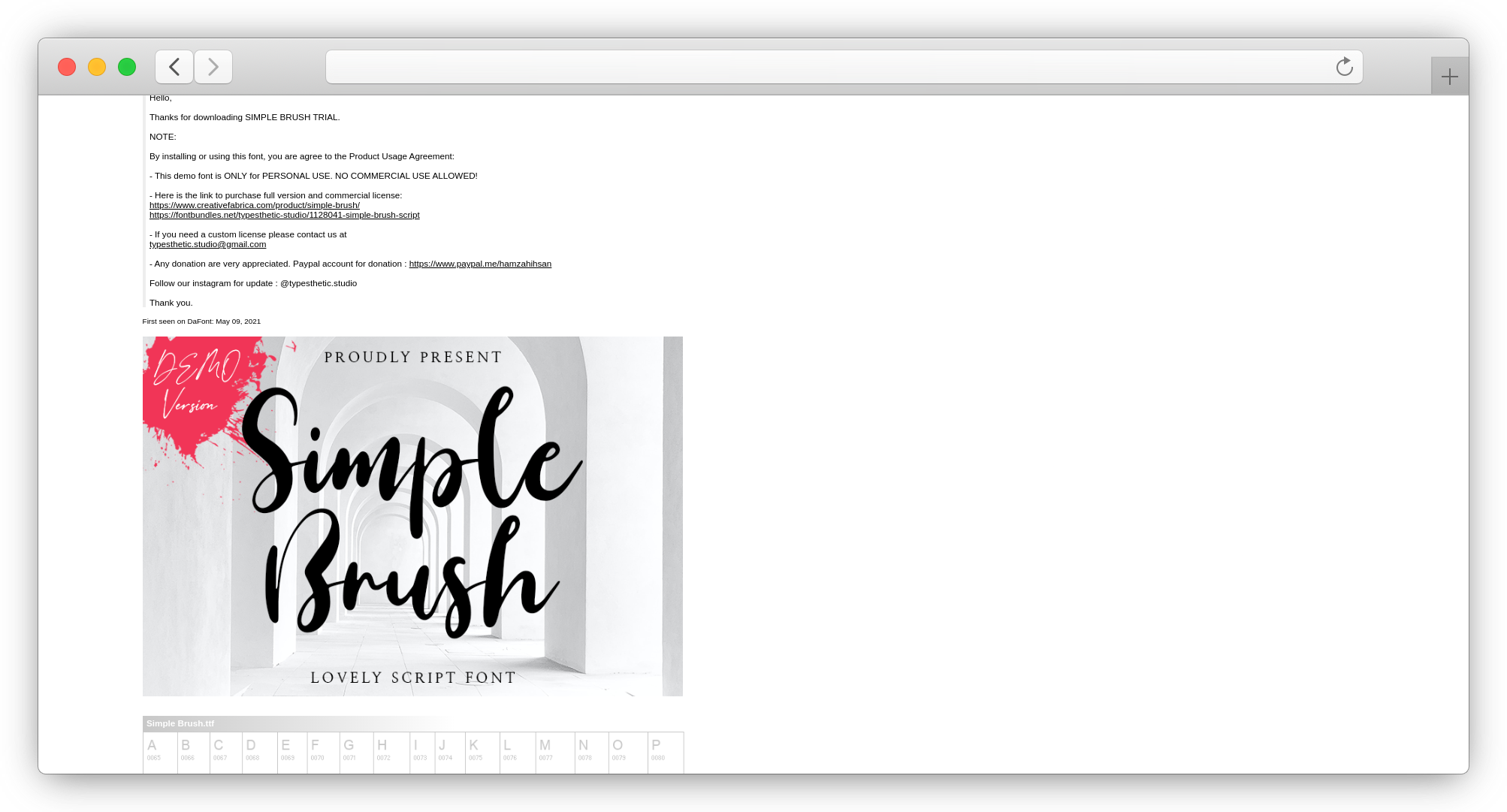 Simplified Simple Brush Font is perfect if you want a minimalist look but still want the feel of being handcrafted by a professional — this one looks like it was written using an actual brush and some ink! It's all upper case letters, which makes it great for things like headlines or wedding invitations where you don't need lower case lettering anyway. Woodcutter Handwriting Font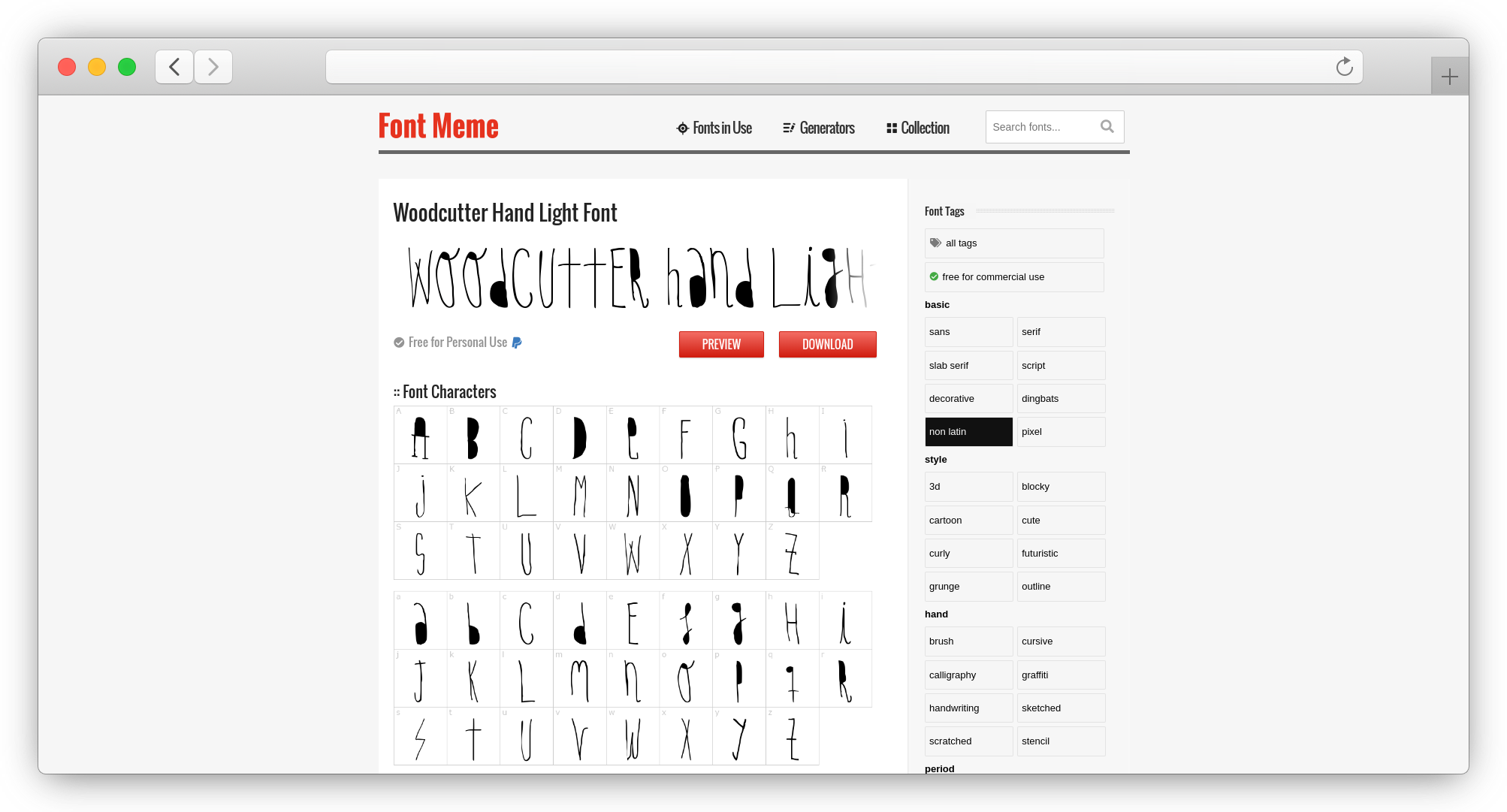 Woodcutter Handwriting Font is a great choice for designers looking for something a little bit more interesting and unique. Flashback Brush Font
Flashback Brush Font is perfect for achieving that classic, handwritten look. It has a great contrast between thick and thin lines that gives it a unique, handmade feel. This one is all uppercase letters, so you don't have to worry about fitting lowercase letters into a design. Sunrise Brush Font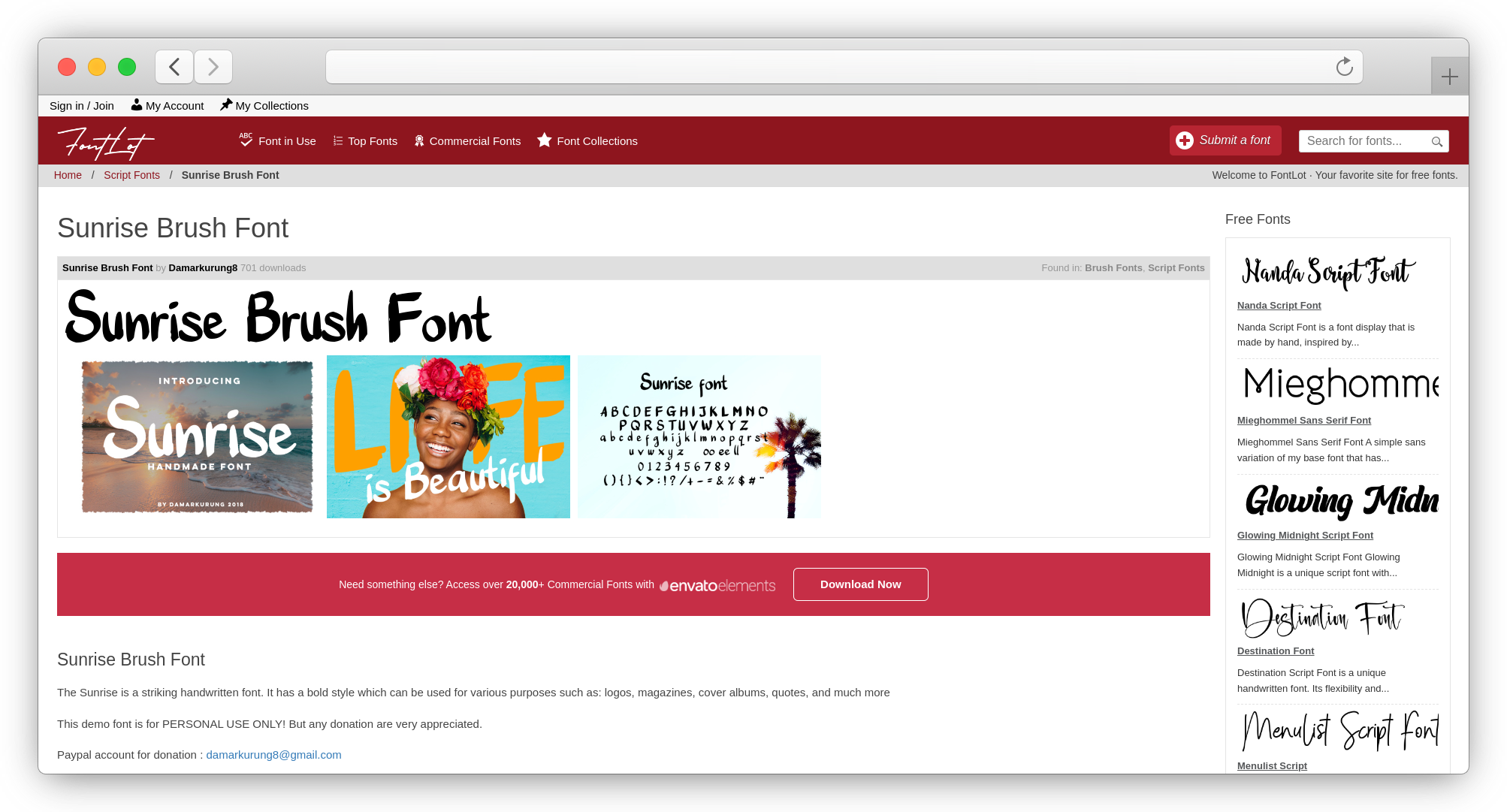 Sunrise Brush Font is a handpainted brush font that looks great when used in big, bold headlines. It's got a really interesting, brushstroke feel that looks like it was made with an actual brush. It's got lots of alternate characters as well as a full set of lowercase letters.
---
Interesting Free Art Deco Fonts for Designers
If you're a designer looking for a unique font style, you may want to consider downloading one of the interesting art deco fonts now available for free. Art deco fonts are characterized by geometric shapes, intricate patterns and clean lines; this makes them ideal for projects that need a modern yet sophisticated feel. Here are some great options to get you started:
Free svg fonts for designers
If you're looking for free SVG fonts to download in 2023, then you've come to the right place. I've rounded up the best 20+ free fonts available in the 2023 market, so you can find the perfect font for your next project. Free Fonts for Designers Here are some of my top picks for free svg fonts for designers:
You can download these stylish free fonts right now and get started on creating amazing designs of all kinds! With so many different typefaces available, there's bound to be one that fits your needs perfectly—so get downloading today!
Top free monogram fonts
Are you looking for a great free monogram font for your design project? If so, you're in luck, because there are tons of options out there. Here are some of the top free monogram fonts for designers in 2023:
These five fonts are just a few of the options available out there. But if none of these work for you –– don't worry –– there are plenty more free monogram fonts out there:
These are just some of the free fonts available out there. With so many choices, chances are you'll find the perfect font for your project. So don't be afraid to explore and experiment –– you never know what you'll find!
21+ Graffiti fonts for free
Did you scroll all the way down here? Here's a bonus list of graffiti fonts that you can download for free to give your design an urban edge! Graffiti fonts are an awesome way to add a unique touch to your designs. Whether you're looking for a style reminiscent of classic graffiti tags or something more playful and decorative, these fonts have got you covered:
Airbag Typeface – A tag-style font featuring characters inspired by classic graffiti lettering
[Sample] – A fun, colorful font featuring rounded characters in different sizes
Citizens – An all caps font featuring tall, angular characters
Power Cuts – A bold font featuring letters tightly packed together
RAD Graffiti – A grungy and edgy all caps font
Heavenly Sword – A thick, bold font with cartoonish characters
Depravity – A thin, jagged font with a unique personality
Frosted Cage – A font with a unique blend of chilled and sharp vibes with an edgy feel
Vandal Squad – A scary font with a monotone, messy feel
Urban Bouquet – A playful, serif-style font for more decorative designs
Revolution – A unique sans serif font, with tall characters inspired by old school graffiti
Glorious – A wildstyle font, inspired by the urban street art of New York
Flood – A modern take on traditional graffiti fonts, featuring a thin and sleek lettering style
Hustle – A fun, party-style font, featuring characters inspired by hip hop culture
Wild Dream – A wildstyle font featuring a heavy and angular lettering
Nosferatu – A creepy-looking font, featuring characters inspired by horror films
Firewall – A strong, blocky font featuring characters inspired by graffiti art.
Font Diner – An all caps font with unique characters, inspired by classic diner signage
Regardless of what kind of design project you're working on, these graffiti fonts are sure to provide you with the perfect alternative to your default font choices. And the best part? They're all free to download, so you don't have to worry about breaking the bank to add a little pizzazz to your design. So if you're looking to give your design that added urban
10+ handwriting free fonts
Handwriting fonts are becoming increasingly popular with designers in 2023, both for personal and commercial projects. And why not? Handwritten fonts can help communicate a message more authentically and add a certain amount of flair to a design. But if you're looking for handwriting fonts to use this year, make sure you check out the following 10+ handwritten fonts:
Alex Brush: A romantic, brush-style font that's perfect for adding a flair to your designs
Great Vibes: Great Vibes is an ultra-romantic font with beautiful curves and swirls
Pacifico: A casual script font ideal for adding a bit of beachy fun into your designs
Raleway: This elegant brush script features an exaggerated baseline that makes it stand out from the rest
Satisfy: Satisfy is an unassuming yet classy script font with enough finesse to make any project feel like it came from the best designer in town
Shadows Into Light Two: A casual and whimsical handwriting font featuring playful characters
Henny Penny: An ultra-casual script font designed to look like it was written with a marker
Caveat Brush: A brush font that features an incredibly bold and expressive look
Kaushan Script: A classic and refined calligraphy font that will make an elegant statement in any design
Pinyon Script: Pinyon Script is a casual and simple handwritten font with a bit of a retro vibe
Pacifico Regular: If you're looking for a bit of a vintage feel, Pacifico Regular is the perfect font for you
Miltonian Tattoo: Miltonian Tattoo is a unique writing style with a touch of rock and roll
Jim Nightshade: Jim Nightshade is a gorgeous font with a hand-painted look
Notera: Notera is a beautiful modern font that still manages to capture the look of classic handwritten fonts
Invasion 2000: Invasion 2000 is a unique font with an ultra-stylish vibe perfect for contemporary designs
No matter what kind of project you're working on, there's sure to be a handwriting font that fits the bill. Just be sure to have a little fun with it, and you'll have an amazing design in no time.
10+ Free Retro Fonts to Download
Are you looking for the perfect font to spice up your design? Look no further than these 10+ retro fonts that you can download for free! Old school typography can add a natural balance of vintage and modern charm to any design project. Whether you're designing a logo, website, or print ad, retro fonts are an excellent choice for any creative professional.
So what should you look for in a retro font? First and foremost, contrast is very important. Try to find a font with bold lines and thick strokes—these will create a powerful focal point in your design. Additionally, pay attention to the shapes and letterforms.
You want to look for strong curves or sharp corners that provide visual interest within the typeface.
Here are some free and amazing retro fonts:
Whether you are looking for something fun and playful or a bold and modern typeface, there is a retro font that is perfect for your design project. With these 10+ free retro fonts, you can add a touch of vintage style to any design project.
10+ Free Tattoo Fonts to Download
Get inspired with this collection of 10+ free fonts perfect for your tattoo designs. It's easy to get overwhelmed by the thousands of fonts available: some are great, while others can feel too basic or the same.
Here's a great starting point: these fonts are guaranteed to help you make a real statement with your tattoos. From bold, brush-like strokes to delicate serifs and everything in between, you can really find something special here. Plus, all of these fonts are free to download!
10+ Free Tattoo Fonts to Download
Finally, Summer Ranger is a unique font with smooth and graceful curves, perfect for adding a touch of romance to any design. These free tattoo fonts add a touch of edge and coolness to any project. Whether you're creating a tattoo-inspired design, looking for traditional tattoo lettering, or want an old-school feel, you'll be sure to find a font that fits the bill. Download these free fonts today and add a whole new level of detail to your designs.
A Guide to Choosing the Right Font
Selecting the right font for a project can be daunting and time consuming. For example, when creating a modern logo, you wouldn't want to use a vintage font that doesn't match the logo's design. To help make your font selections easier and save time, here are some tips to consider:
1. Pick the Right Style First, decide if you're looking for a retro font or a tattoo-style font? Retro fonts are great for creative projects like posters and flyers. On the other hand, tattoo fonts have edgy designs that give off an adventurous vibe.
2. Know Your Audience Are you designing for yourself or someone else? Your audience should be top of mind during this process since different styles will appeal to different types people. Is the goal to create something playful or professional? Depending on your target audience, it may be best to stay away from certain font styles like script fonts which can sometimes appear too casual or ornamental calligraphic fonts which can come off as too formal.
3. Factor in Legibility If your intended audience is reading text-heavy designs such as books or magazines, then legibility needs to be key consideration when picking out a font style. Certain fonts work better than others in certain situations—for instance sans serif fonts tend to work better on computer screens due to their clarity and sharpness.
Whereas serif fonts have more of an organic nature and are more suitable for print material because of their smooth curves which makes them easier to read at small sizes!
4. Consider Font Formatting Sometimes the key to creativity lies in the details. There are a plethora of font formatting options to choose from, such as bold, italic, and even all-caps. But it is important to be mindful of the message each formatting option can send. It might be best to keep it simple and not to overdo it, as too much formatting can make fonts harder to read and decipher.
5. Take Time to Experiment Finally, take the time to experiment! With so many great font options out there, it can be easy to get overwhelmed. Don't be afraid to try out new font styles and really pay attention to how the design components come together.
Find the perfect blend of classic and modern fonts, or even mix and match styles to create truly unique designs. No matter what you choose, font selection can be an enjoyable activity. Oftentimes a great font can make a huge difference and help bring a project to life. And with these tips, you're sure to find the perfect font for your project. So go ahead, try out different styles and find a font that reflects the feel and design of your project. Who knows, you might even create something totally one-of-a-kind.
Conclusion
Whether you're a designer looking for the most beautiful fonts for your next project or a user wanting to make your work look more professional and esthetically pleasing, the 32 free fonts featured here will help you get the job done.
From the classic sans-serif VCR font to the romantic font, Daydreamer, the fonts in this list are sure to take your designs to the next level. Furthermore, they're all free, so you don't have to worry about breaking the bank.
Remember that the right typeface can make any design project come to life. Don't let the overwhelming options available on the web keep you from finding the perfect font. Take a look at this free font list and find the one that speaks to you.